Samaritan's Purse teams have completed work on dozens of homes. Nine people have come to faith in Jesus Christ.
U.S. Disaster Relief
013622
A day before the floodwaters arrived, James Mrdutt received a text from local authorities warning that the water was headed for his community in Midland, Michigan. Sure enough, the next evening, the water poured in and inundated neighborhoods with water, silt, and mud.
The Mrdutts were among thousands of homeowners who experienced the devastation of the May 19 flooding caused by days of heavy rain, the failed Edenville Dam, and the 35-foot crest of the Tittabawassee River that rose more than 10 feet above flood level.
Samaritan's Purse volunteers began work at the Mrdutts in late May, pulling out walls and flooring, carrying debris to the street, and attempting to salvage treasured belongings. James was unable to help because he'd injured himself the day before trying to do the clean up on his own.
Sadly, the sludge from the flood had filled the Mrdutts' basement five feet high and ruined everything that was not moved in the 24 hours leading up to the flooding. The basement's flooring and walls were ruined, and among the waterlogged belongings were a 3,000 piece movie collection meticulously assembled and Air Force memorabilia from James' 20 years in the military.
"It was like a punch in the gut," James said, remembering what it felt like seeing volunteers carry out military uniforms, patches, and promotion documentation.
Although this was one of his lowest points, James said that our volunteers and the Billy Graham Rapid Response Team Chaplains were there at just the right time for him.
"When I saw all that stuff carried out, I had a lot of emotions. There was a lot of hopelessness in our neighborhood," James said. "The chaplains were there to walk me through that difficult moment. They let me feel those emotions without judging."
An Outpouring of Love
When James checked on neighbors after the flood he saw homes with caved in walls and floors heaved up two feet. At least 15 houses in his neighborhood had to be condemned. "I've never seen anything like that," he said.
Yet, James was also astounded by something else—the overwhelming love and hard work from Samaritan's Purse volunteers.
As soon as they were finished at the Mrdutt house, they went on to help his elderly neighbors and others throughout the community.
"Without Samaritan's Purse it would have taken weeks to clean up this mess. We'd still be cleaning out basements right now," James said. "It has restored my faith in humanity."
James said his son Andrew was so encouraged by the volunteers that he started volunteering with Samaritan's Purse the day after they worked at the Mrdutt's house. He continues to volunteer on his days off from his job.
"It's been a blessing to cross paths with Samaritan's Purse," James said. "I've lived through some floods before but I've never seen one decimate a neighborhood. And to see group after group of volunteers come out—that outpouring of love has truly brought me back from despair. It's taught me that God will bring people to where they need to be."
Since we started work in Midland, more than 600 volunteers have joined our relief efforts, and we have completed mud-out work on more than 70 homes, with as many as 180 more to go. Please pray for these hurting homeowners, for our staff and volunteer teams, and for nine individuals who received Jesus Christ as their Lord and Savior. We praise God for the way He is working in the hearts of these homeowners through the efforts of our volunteers.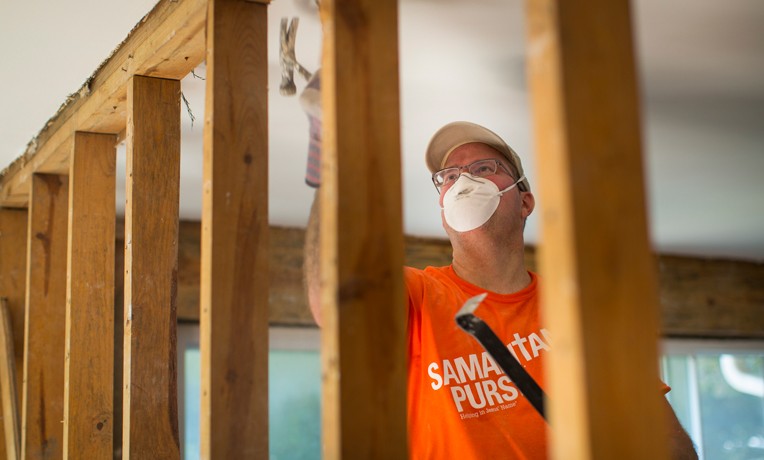 U.S. Disaster Relief
Samaritan's Purse mobilizes and equips thousands of volunteers to provide emergency aid to U.S. victims of wildfires, floods, tornadoes, hurricanes, and other natural disasters. In the aftermath of major storms, we often stay behind to rebuild houses for people with nowhere else to turn for help.
---
U.S. Disaster Relief 013622