Husbands and wives reconnect with God and each other during a special weekend gathering in Fort Worth.
More than 400 military couple gathered March 2-4 in Fort Worth, Texas, for the 2018 reunion of Operation Heal Our Patriots, a project of Samaritan's Purse focused on strengthening the marriages of families with at least one spouse wounded in combat or combat-related activities after 9/11.
Each year, project participants are invited to this three-day event, which includes general sessions, corporate worship, and workshops focused on marriage and spiritual refreshment. It's also a treasured time to connect with other couples and program staff.
Chaplain Jim Fisher addressed the veteran couples this year on Friday night, encouraging husbands and wives to pursue Christ and turn to Him, even and especially in the darkest, most confusing moments.
"Often we try everything else before we turn to Jesus," the chaplain said, recounting the story in Mark 5:34 about the sick woman who fought her way through the crowd to be healed by Jesus. "You've tried everything but you haven't tried Jesus. Try Jesus, because what is this community and this cause if you don't have Christ?"
Bless the Marriage of a Military Couple
013960
As the weekend began, veterans and their spouses had a chance to honor evangelist Billy Graham, who died Feb. 21 at age 99. Attendees applauded after viewing a short documentary video of his life and worldwide impact for the Gospel. (Franklin Graham, president of Samaritan's Purse, is the eldest son of Billy Graham.)
"It's good to honor him tonight and to clap for him," said Marine Brigadier General Jim Walker, executive director for Operation Heal Our Patriots. "I believe he can hear you, though he's at that 'different address.'"
Attendees received a special Texas welcome via a letter from former U.S. President George W. Bush who thanked them for their service and encouraged their walk with God. Couples also heard from Texas Governor Greg Abbott who recorded a special video message for the audience.
Learning to Make Marriages Stronger
This year in Fort Worth attendees heard from speakers Phil Gungor, Amy Smalley, and Michael Smalley, and worshipped with Josh Havens of The Afters, The Tommy Coomes Band, and guitarist Dennis Agajanian.
Phil Gungor exhorted husbands to fight for their wives just like they fought for freedom on foreign battlefields.
"The hero always goes back for the girl," he said. "At great risk to himself he goes back and rescues the girl. A lot of guys think when they say 'I do' it means 'I'm done." If you let everything else in your life become more important than her, you'll pay a very serious price. Don't forget to go back for the girl."
Navy Petty Officer Second Class Clint Haskell and his wife Jaclyn were glad to be at this year's reunion. They say they've learned to fight for each other and their faith through the difficult seasons and dark times.
"It's the job of the one to pull the other out of the dark places," Clint said. "I admit she's done a lot more pulling than I have."
Both Clint and Jaclyn received Jesus Christ as Lord and Savior at Samaritan Lodge Alaska in 2016 and were baptized there. They are very appreciative of the Christian community they've found through Samaritan's Purse.
"Whenever we've gone through difficult seasons Operation Heal Our Patriots has been a lifeline," said Jaclyn. "Since we've been to Alaska we've never felt alone."
Clint said that during a difficult time when he had to work in another state, Samaritan's Purse Aftercare Chaplain Greg Duvall was on the phone with him on an almost daily basis.
"It was a tough time, but he encouraged me and helped me to stay strong," Clint said.
Strength and Wisdom for Daily Battle
During Saturday breakout sessions, reunion attendees learned from Samaritan's Purse staff and guest teachers how to deal with anger, navigate blended families, pursue effective treatment for PTSD, improve physical intimacy, and many other practical marriage skills.
"We cannot fix our husbands, and they can't fix us," Amy Smalley told her breakout class in a discussion about addressing the moral injury caused by battlefield experiences. "But when we meet someone where they're at, where they're at can change. When you can be open and build that trust it can change everything."
The power of Christian community was evident this past weekend as couples turned to each other for strength and accountability. Army Sergeant Jermaine Gabriel and his wife Christina, who came to Alaska in 2016, said their newfound relationship with Christ has been bolstered and reinforced by those they've met through this Samaritan's Purse project.
"It's important to be able to relate to couples who have been through the same things we have," Jermaine said. "I look to a lot of these guys as brothers because they've been through what I've been through. [Operation Heal Our Patriots] has brought us closer to God and as a family."
Marine Master Sergeant Gregg Bellucci and his wife Corie were attending their first reunion. They received Jesus Christ as their Lord and Savior in Alaska just last summer.
"I felt that there was no God. But in Alaska they actually made me feel like a person, and I hadn't felt like a person for the longest time," Gregg recounted. "I had never prayed, but I prayed for the first time. I have the Lord, and I feel like my life finally has a purpose and a direction."
Please pray for these military couples to continue growing in Christ. Pray also for the many husbands and wives scheduled to attend a week of marriage enrichment in Alaska this summer.
To view photos from our 2017 season go here.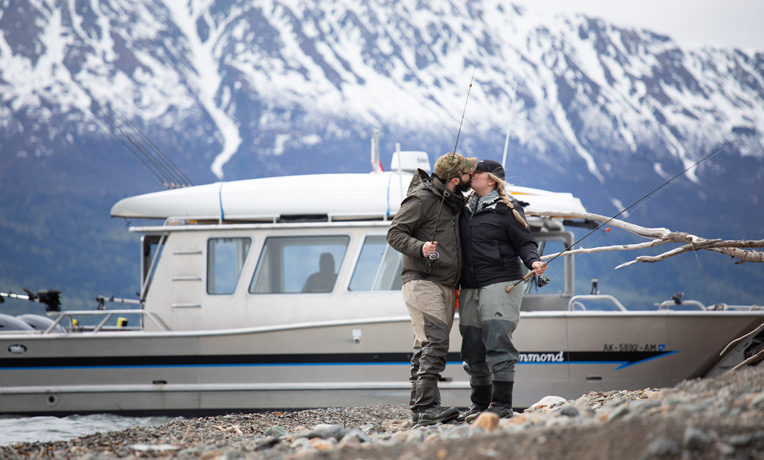 Bless the Marriage of a Military Couple
Operation Heal Our Patriots helps military couples build a strong spiritual foundation during a week of Biblically based workshops, relationship-building wilderness activities, and individual care by our retired military chaplains. We offer all this free of charge to these American heroes as a token of our appreciation for their service and sacrifice. Your gift will help us cover the costs—including transportation, lodging, activities, and long-term Family Care—so that we can help them find hope in the Lord.
---
Operation Heal Our Patriots 013960
Suggested Gift: $60