Women in remote villages are learning health and nutrition practices to better care for their families.
Care for Mothers and Babies
013717
Masan's days are long and hard in her impoverished village in Myanmar. She helps her husband with the farming and takes care of their four children, the spirited 1-year-old twins giving her little time to catch a breath.
Masan loves her family and does her best to care for them, yet struggles knowing how to best provide nutritious meals, especially for her young twins. Like many mothers in villages across Myanmar, Masan has never been taught the basics of proper nutrition or healthy hygiene.
Every month Masan and other mothers in her village gather for their mother-to-mother meeting sponsored by Samaritan's Purse. The women learn about the best food for newborns and children and how to keep themselves healthy during pregnancy.
These women lack easy access to healthcare. Masan's village, like most where Samaritan's Purse works in Myanmar, is remote. The village is more than an hour from the nearest town.
Mother-to-mother groups are just one way our maternal and child health programs are improving the lives of women, babies, and children across Myanmar, which has the second highest infant mortality rate and lowest life expectancy in Southeast Asia.
We're also training midwives and providing micronutrient powder supplements to malnourished babies and children.
In this predominately Buddhist country, Samaritan's Purse is working in Jesus' Name to bring physical relief and the hope of the Gospel to one of Asia's poorest economies.
Lives Changed
In Tada U Township where Samaritan's Purse is working, only about 24 percent of households maintain a healthy diet. Women in the township feed their children honey water because they don't understand that breast milk is healthy and substantial.
About 35 percent of children in Tada U suffer from stunting due to lack of a consistent, healthy diet.
For women like Masan, the mother groups are invaluable. "I have learned about nutrition and to feed the baby food from different food groups," she said. "I know not to feed the baby spicy foods, and to feed my children meat and not just rice."
Masan is 32 years old and has been married for 14 years. She's thankful to Samaritan's Purse for the rare opportunity to learn, especially alongside other mothers.
"I haven't received knowledge since I was a child," she explained. "I only went to a monastery school for a few years. There wasn't a school in my village."
The mother groups not only teach health and nutrition, but also foster community among women desperate for encouragement and respite from life's daily demands.
"I haven't received knowledge since I was a child. There wasn't a school in my village."—Masan
"Mother-to-mother groups provide mutual aid and promote trust and sincerity," said Micailah Sloman, Samaritan's Purse maternal and child health program coordinator in Myanmar. "They incorporate peer relationships into support enhancing environments, which aligns with the Biblical aspect of building relationships."
Mothers in Masan's village are already building relationships and growing closer to one another. "We talk about how to care for our kids when they are sick, and even about problems in our family," Masan said.
Unexpected Blessings
Sweoo always wanted a home bustling with children, but after one stillbirth, she had to bear the devastating news that she wouldn't be able to have children.
Sweoo refused to let disappointment consume her life. She decided to become an auxiliary midwife so she could help women have safe, healthy pregnancies.
Last year, Sweoo attended a midwife training hosted by Samaritan's Purse and received valuable instruction for critical labor and delivery situations.
"I am thankful to the Samaritan's Purse staff who trained me," she said.
During the midwife training, Sweoo learned from our staff about the mother-to-mother groups. Sweoo volunteered to lead a mother group in her village because she wants more women to learn about life-saving nutrition.
"I am happy to share health messages with my village," Sweoo said.
Through the mother groups, Sweoo has opportunity to love and care for women, babies, and children.
Sweoo is investing in the next generation and, in her own way, fulfilling her dream of raising children. "I see all the village children as my children and grandchildren."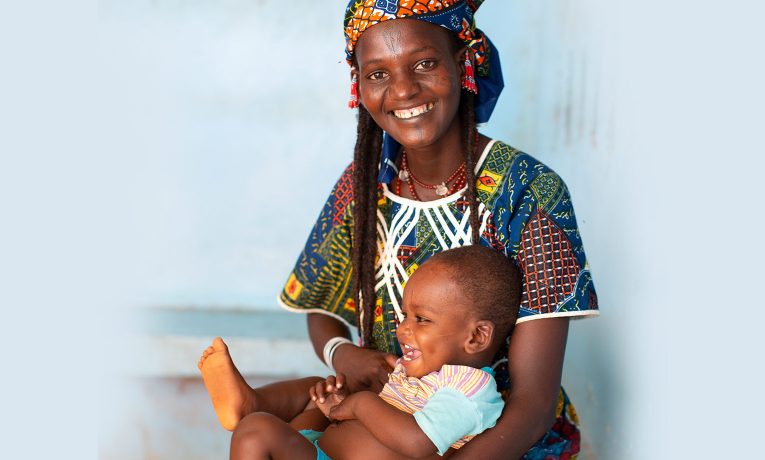 Care for Mothers and Babies
Tragically, hundreds of young mothers and thousands of newborns die every day from preventable causes. Your gift can help Samaritan's Purse reduce the mortality rates of women and their young children by improving obstetric care, teaching essential nutrition practices, and increasing access to quality healthcare.
---
Prenatal & Maternity Care 013717
Suggested $75