Christ-centered care has blended 71 Haitian children into a family at the Greta Home and Academy
Love is a word that children hear often at the Greta Home and Academy in Leogane, Haiti. The school and orphanage, operated by Samaritan's Purse, is home to 71 boys and girls, ranging in age from 3 to 16.
Give
Some of the children are orphans. Others come from desperately poor families, where daily meals were scarce and the children had no possibility of attending school. All of them have been welcomed into a loving, Christian environment where they feel at home.
"Every child wants someone to believe in them, to believe in their dreams," said Penny Fairo, the executive director of the Greta Home. "We love them as if they were our own. Our children call our staff their mamas and their papas. They see us as parents. We pray that here at the Greta Home and Academy, they will receive a wonderful education that will enable them to take that leap out of poverty and be successful. And we also pray that they will receive salvation and have a relationship with Jesus Christ."
There is no public education in Haiti, creating a situation where 50 percent of the children in the country never go to school. The Greta Home offers classes from kindergarten through fifth grade and is adding sixth grade in the fall.
Many children who come to the academy have had no school experience. They are placed in classes based on their level of education, rather than age, but the older students excel quickly.
The Greta Home is making a difference in the lives of children like Mackenson, a bright kindergartner.
"I like this place," he said. "The people are nice, it has good food, and I have my own bed."
Mackenson likes to study math, reading, writing, and English. He plans to be an engineer and build houses. He also likes the Bible stories he's learned.
"I like the story of David and Goliath," he said. "David wasn't afraid because he had [God], and I wouldn't be afraid either. I would fight Goliath and cut off his head!"
A spunky 9-year-old named Lovemaillie thrives in the Greta Home environment. When she's not in class, Lovemaillie likes to visit the library, where she can do homework, read books, play games, and visit with friends.
"When I play dominos, I use math to add up the numbers," she said. "When I read a book like the one about the little mouse and the bear, I'm not afraid. I know that if I was the mouse, God would be with me."
Lovemaillie isn't shy about her faith.
"I accepted Christ and was baptized in order to follow the Word of God," she said. "I like the story of Jonah in the Bible. I learned that if God tells you to do something, you need to listen. I pray for my teachers and pray that God will help me so I can learn in school."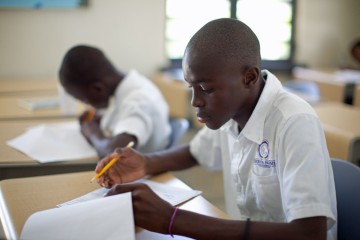 At 15, Mardochee is one of the oldest children living at the home. He had never gone to school when he moved in two years ago. He is working hard to catch up, because he has dreams.
"I want to be a policeman, so I can help bring security to the country," he said. "I want to arrest bad people who put the public in danger. I want to help people."
The teachers at the school are all believers who take a special interest in their students. Jousé Dort teaches second grade during the week and pastors a small congregation of about 50 people on Sundays. He knows that God brought him to the Greta Home for a reason.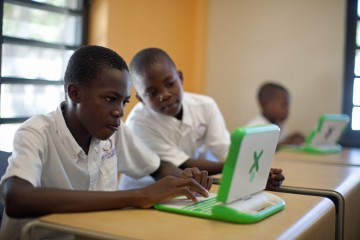 "I love teaching, I love the kids, and I want to contribute to education in my country," Dort said. "Without education, the country fails. These children need to have a relationship with God so that they can become the honest men and women who will take my place when I am old. These children need more love, more affection, more patience, more grace, and extra care. We try to provide that here because we're a family."
Graduation Day
On June 14, the covered courtyard of the Greta Home came alive with colorful balloons and streamers, a sound system, and bright orange chairs set up in rows so every student could attend an important graduation. Five of their classmates, all 5-year-olds, were graduating from kindergarten to the first grade.
In a country where half the children never go to school, kindergarten graduation is an important milestone.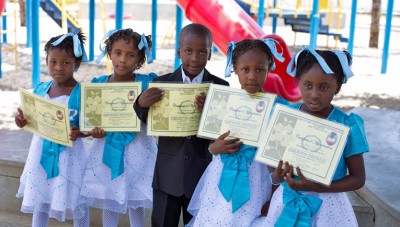 The five grads were dressed for the celebration. Mackenson, the only boy in the group, looked sharp in his black tuxedo, while the four girls, Valencia, Kessy, Danessa, Lourdemica, wore matching turquoise dresses.
Children in different grades performed skits or sang special songs. Teachers and administrators congratulated the children for their hard work and prayed for God's blessing on their young lives. Everyone applauded when each child stepped forward to receive a diploma.
"I know that the Lord is very happy today because of your great achievement," Penny Fairo told the children. She also thanked the teachers and staff. "I want to thank all of you. You've spent a lot of time and energy investing in the lives of our children. They couldn't have done it without you."
No parents were there to watch their children graduate from kindergarten, but seated in the crowd was a woman with a gentle smile named Mariebenese. She couldn't have been prouder of "her children."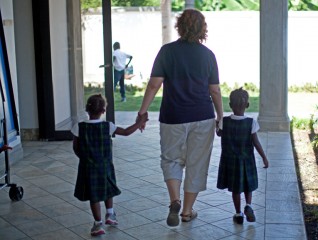 As a caretaker at the home, Mariebenese helps the little ones get dressed for school, assists teachers in the classrooms, helps children with their homework, and watches over them throughout the day. The Greta Home is her home, and the children call her mama.
"I have no children," Mariebenese said. "I am married, but all of my babies died. I love these children. These children are like my own."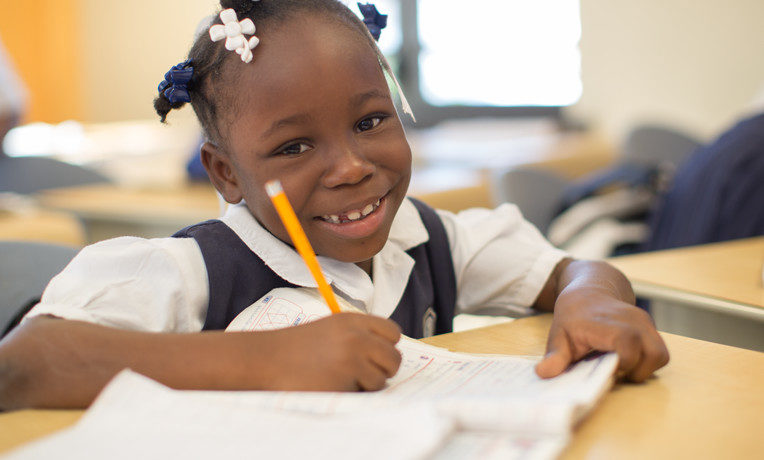 Greta Home and Academy
Samaritan's Purse officially opened the Greta Home and Academy in 2012 in honor of Greta Van Susteren to recognize her advocacy for the people of Haiti following the 2010 earthquake. Your gift will help provide a Christian home and education for these children so they might grow up to be like King David, whom God called "a man after My own heart, who will do all My will" (Acts 13:22).
---
Haiti-Greta Home & Academy 013962
Suggested Gift: $150 | Share the Cost: $15