This month the Kentucky town observes the first anniversary of a tragedy, but they'll also be able to celebrate God's work through the many volunteer teams still working to help rebuild.
U.S. Disaster Relief
013622
A year ago this month, musician Ricky Scaggs was singing Christmas songs from the stage of a local Mayfield, Kentucky, school where Franklin Graham joined Samaritan's Purse staff, volunteers, and many grieving residents for a Christmas Eve meal.
Our teams had started serving in the area on Dec. 14, 2021, to help help hurting residents clean up in the aftermath of devastation. A swarm of deadly nighttime tornadoes tore through several states Dec. 10 and 11, leaving a long trail of destruction and killing at least 88 people. In Mayfield, the hardest hit community, an EF-4 tornado leveled parts of downtown and decimated whole neighborhoods and businesses.
This would be one of the darkest Advent seasons in the town's 200 year history. The Christmas Eve meal was just one of many ways we were able to encourage the community and share the hope of the Gospel of Jesus Christ with hurting people.
"It seems strange to say 'Merry Christmas' here when there's so much destruction," Franklin Graham told residents during the holiday meal. "But I mean it when I say it. I hope you all have a merry Christmas and that this community comes together to heal and build back even better than before."
U.S. Disaster Relief teams were hard at work that month and in the following weeks as more than 2,000 volunteers joined our efforts to help so many hurting homeowners pick up the pieces of their lives.
Even former Vice President Mike Pence and his wife, Karen, were among the volunteers as they visited Mayfield with Edward Graham, Samaritan's Purse vice president of operations, to help with tornado relief. Additionally, more than a dozen Operation Heal Our Patriots veterans, spouses, and family members served the community through the Team Patriot program.
Billy Graham Rapid Response Team Chaplains were also on hand in neighborhoods during the monthslong response, providing emotional support and spiritual encouragement.
More than 700 homeowners received help during the relief phase of our work, and we praise God that at least 82 Mayfield residents received Jesus Christ as Lord and Savior during that time.
Samaritan's Purse Continues Working in Mayfield
Toward the conclusion of our relief response, we began a rebuild effort to replace many of the homes that were lost in the storm. The Samaritan's Purse Western Kentucky Rebuild Program began in late Jan. 2022 as the needs continued to grow, far exceeding the scope of a typical rebuild program.
So far, almost 600 volunteers, including more than a dozen Team Patriot volunteers, have been a part of helping these families rebuild and move home. To date, we have celebrated the move-in days of four families into four new homes and 20 new homes are under construction.
"The people of Mayfield have struggled through a year of loss and uncertainty but there have also been moments of great joy and hope. God is at work through our volunteers and these rebuilds. It's been a privilege to see it," said Jeff Graham, program manager for the Mayfield rebuild project.
We will be working in Mayfield for many more months to come as we continue to ramp up our rebuild efforts in the area. The project has expanded to include a subdivision with 50 half-acre lots for renters and a furniture assistance program to help up to 400 families.
In total, the project will provide 110 new homes and extensive repairs to 100 standing homes. An additional 100 families will receive assistance for purchasing construction or repair materials.
All new homes will be built with a reinforced interior "safe room" and an additional 60 families will receive underground storm shelters with room for eight people—both are rated to withstand an EF-5 tornado.
As Mayfield rebuilds, please pray that the Lord Jesus Christ would bring comfort to those who are still hurting—through His people serving in His Name.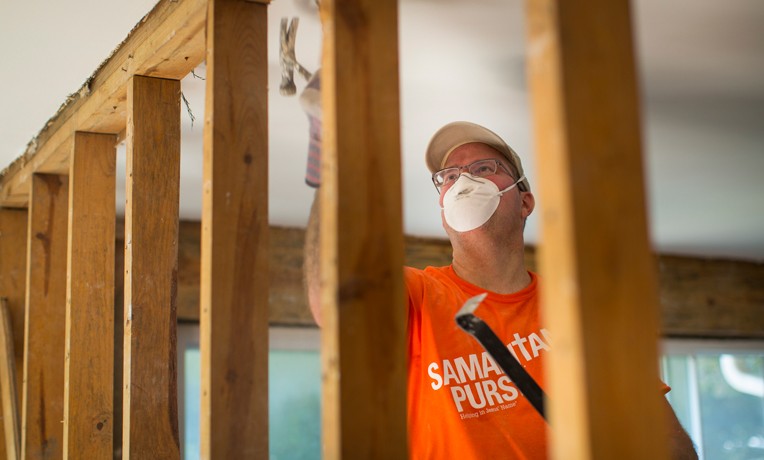 U.S. Disaster Relief
Samaritan's Purse mobilizes and equips thousands of volunteers to provide emergency aid to U.S. victims of wildfires, floods, tornadoes, hurricanes, and other natural disasters. In the aftermath of major storms, we often stay behind to rebuild houses for people with nowhere else to turn for help.
---
U.S. Disaster Relief 013622