A team is on the ground in Orange responding to severe storms
Samaritan's Purse has deployed a program manager and a disaster relief unit to the Orange, Texas, area after early-March storms brought torrential rains and flooding to much of the region. We will be assisting Mauriceville, Orange, and Deweyville starting Tuesday, March 22.
The team will be based at Mauriceville Assembly of God Church in Orange. We will be joined by Billy Graham Rapid Response Team chaplains who will work with Samaritan's Purse staff members and volunteers to minister to homeowners in the name of Jesus Christ.
Samaritan's Purse volunteers will remove mud and waterlogged belongings for devastated homeowners. We'll also tear out damaged drywall, insulation, and flooring and will spray chemicals designed to stop mold growth.
Since early March, Samaritan's Purse has been in West Monroe and Bossier City, Louisiana. More than two feet of rain have fallen across the area, causing rivers to rise to record-breaking levels. Last week, we were able to finish work on 14 homes and have begun the process of cleaning out several others.
Thunderstorms and heavy rain are predicted to continue into this week, bringing with them more flooding, hail, and damaging winds. Please join with us in prayer for families who have been affected and for those who may be affected by the continuing rain.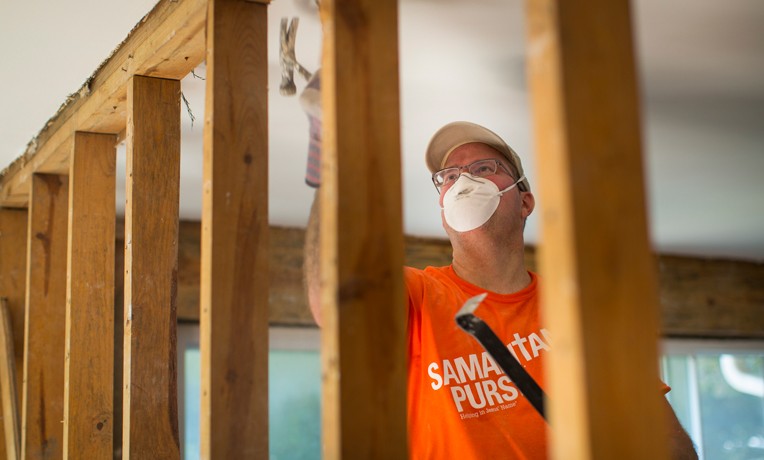 U.S. Disaster Relief
Samaritan's Purse mobilizes and equips thousands of volunteers to provide emergency aid to U.S. victims of wildfires, floods, tornadoes, hurricanes, and other natural disasters. In the aftermath of major storms, we often stay behind to rebuild houses for people with nowhere else to turn for help.
---
U.S. Disaster Relief 013622