Samaritan's Purse volunteer teams are at work in Kentucky, Colorado, Louisiana, and Washington to help homeowners in the wake of devastating storms and fires. More volunteers are needed.
U.S. Disaster Relief
013622
After a catastrophic EF4 tornado sliced through Mayfield, Kentucky, on Dec. 10—carving up hundreds of homes and businesses into heaping piles of broken bricks and splintered lumber—Andrew Clapp knew he had to help his hometown neighbors. Andrew gave his life to Jesus Christ earlier in the year and wanted to serve other local residents because of all that God has done for him.
"He saved me by His grace, so this is just a small thing I can do in return and show the love that He showed me," Andrew said. "And what better organization to get involved with than Samaritan's Purse?"
Andrew, along with hundreds of other Samaritan's Purse volunteers, are helping to clean up properties and share God's love with those in western Kentucky whose lives were torn apart by the storm, like Mayfield resident Ray Turner, whose house was leveled by the twister.
"There's no doubt that God put these people in my life," Ray said, referring to the 57 volunteers who helped remove debris and cut up downed trees on his property. "I never thought there was a group like this out there who are here because they want to be here, not because they have to be here."
Samaritan's Purse was on the ground in Mayfield just a few hours after the tornado roared through the region. Well more than 3,000 volunteers from across the U.S. have helped over 900 families in multiple locations in Kentucky and Arkansas begin to recover from the devastation by removing debris, tarping roofs, and salvaging personal items, as of Jan. 28.
Samaritan's Purse is also responding to the
Marshall Fire
in Boulder County, Colorado. The most destructive wildfire in state history quickly torched hundreds of homes within the span of a few hours on Dec. 30, reducing entire communities to burnt rubble. Volunteers began work this week to help homeowners sift through ashes to recover valuables and other belongings.
We also continue to work in Louisiana, where Hurricane Ida flooded and demolished thousands of houses, businesses, and other structures. We have assisted over 1,600 homeowners since the Category 4 storm slammed the Gulf Coast in late August, but many more families are still awaiting help.
More Samaritan's Purse volunteers are urgently needed to help in Jesus' Name in Kentucky, Colorado, and Louisiana. To learn more, please visit spvolunteer.org.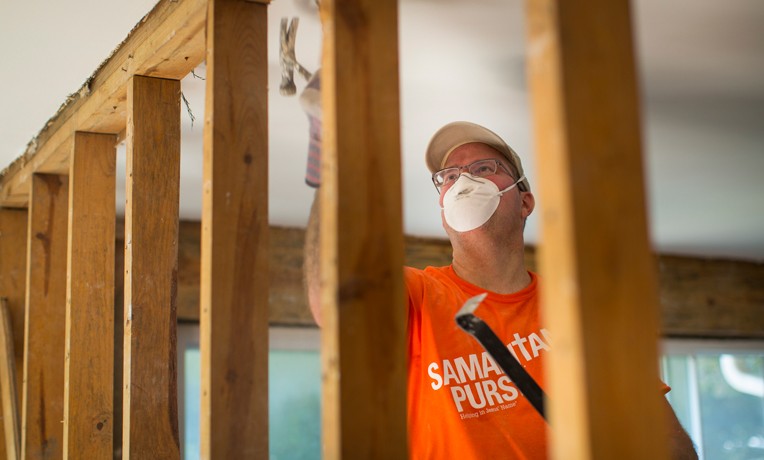 U.S. Disaster Relief
Samaritan's Purse mobilizes and equips thousands of volunteers to provide emergency aid to U.S. victims of wildfires, floods, tornadoes, hurricanes, and other natural disasters. In the aftermath of major storms, we often stay behind to rebuild houses for people with nowhere else to turn for help.
---
U.S. Disaster Relief 013622