Be in prayer for the people of Louisiana as they begin to clean up after another major hurricane.
U.S. Disaster Relief
013622
Deadly Hurricane Ida brutalized southeastern Louisiana Aug. 29-30, knocking out power for more than 1 million people, including the entire city of New Orleans. Fierce winds caused extensive damage while heavy rains and storm surge brought severe flooding.
Samaritan's Purse has rushed to help people in need. Staff members and three Disaster Relief Units—tractor trailers filled with equipment and supplies—are now on the ground in hurricane-battered areas of Louisiana. Our first base was established in Houma at Covenant Church (formerly First Baptist).
Two additional bases are now also up and running: one for the Northshore area, at Immanuel Baptist Church in Hammond; and one for Greater New Orleans, at Saints Community Church in Metairie.
As we partner with local churches, volunteer teams are today clearing yards, patching roofs, and cleaning out flooded homes. To learn how you can serve alongside us in Jesus' Name, go to SPVolunteer.org.
The Billy Graham Rapid Response Team will be accompanying our teams to minister to these communities.
Frightening Anniversary
Hurricane Ida came ashore Aug. 29—on the 16th anniversary of Hurricane Katrina's landfall—as a dangerous Category 4 storm in Port Fourchon, Louisiana, about 100 miles south of New Orleans.
Ida's violent gusts and downpours pummeled the Bayou State, which is still suffering from the effects of three hurricanes (Laura, Delta, Zeta) that hit in 2020. The state is also experiencing a devastating outbreak of COVID-19.
The tropical cyclone came ashore after undergoing rapid intensification in the Gulf on Saturday, Aug. 28, gathering terrible strength with sustained winds up to 150 mph.
Please pray for the people of Louisiana, as they begin to recover. Pray that Samaritan's Purse would be able to share the love of God in word and deed in this situation.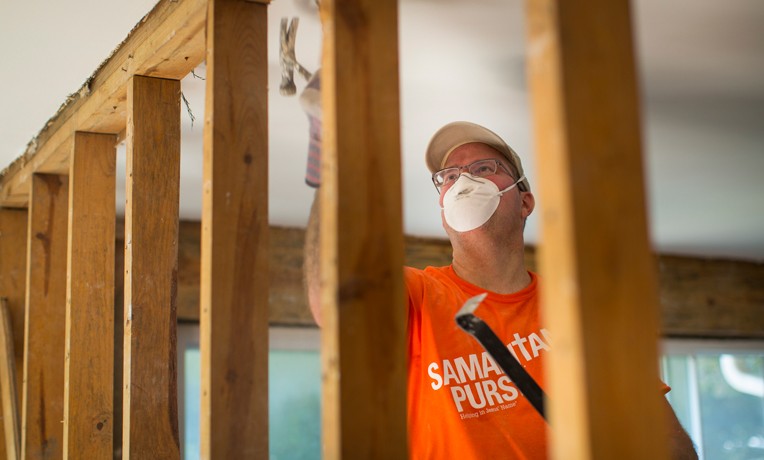 U.S. Disaster Relief
Samaritan's Purse mobilizes and equips thousands of volunteers to provide emergency aid to U.S. victims of wildfires, floods, tornadoes, hurricanes, and other natural disasters. In the aftermath of major storms, we often stay behind to rebuild houses for people with nowhere else to turn for help.
---
U.S. Disaster Relief 013622