Samaritan's Purse is helping homeowners after heavy rains affect thousands across a wide area of the state
Days of unrelenting rain caused rivers and creeks to overflow their banks, creating catastrophic flooding across a wide area of northern Colorado. Whole towns were evacuated after becoming swamps. Major roads are closed, and thousands of homes are without power.
Donate to U.S. Disaster Relief
Samaritan's Purse responded by sending staff, equipment, and volunteers to help in some of the hardest-hit areas. A team operating out of our base in Boulder County began working September 18, helping homeowners by removing ruined belongings from flooded houses, taking out waterlogged insulation and drywall, and helping prevent the growth of mold.
Click here to volunteer in Colorado with our Disaster Relief team.
On September 16, a Disaster Relief Unit arrived at Rocky Mountain Christian Church in Niwot, within 15 minutes of the hard-hit communities of Lyons, Clark, and Longmont. A second unit has positioned itself at Journey Christian Church in Greeley, Colorado.
"The decision to partner with Samaritan's Purse was a no-brainer," said Shan Moyers, pastor of Rocky Mountain Christian Church. "They've done this all over the country in different places and disasters. It was like, 'Let's do this and how quickly can we get it going.' So, as soon as you guys were here, we were ready to go and it's neat to see what's happening already."
We began providing tools and equipment to local churches already engaged in relief efforts as soon as we arrived and have been serving hard hit areas in Boulder and Weld Counties. So far we've completed more than 300 work orders in both counties combined. The Weld County site in Greeley closed on October 16, finishing with 64 completed work orders and recording 47 salvations.
"There's definitely a need here in the Boulder area and surrounding areas," said Kenny Adcock, a Samaritan's Purse program manager. "As each day goes on, it seems to grow as we are able to collect more information, more data, to find out that there is that great of a need. I can see where we are going to get in and plug into here and restore lives and livelihoods to a point where families are going to see hope. And that hope isn't through just that physical labor but the ministry opportunities, to go in and love them in the name of Christ."
More than 15 inches of rain had fallen within a week, about half the amount the area normally receives during an entire year. The unusually large amounts of rain in a short amount of time are what caused the floodwaters to dramatically rise last week.
"This isn't normal for us at all," Moyers said. "We deal with massive snow storms. We deal with wildfires and everybody knows what to do in those situations. A flood in Colorado? We've had well over our annual rainfall in like three days. I mean, it's been overwhelming and how quickly it happened, it was a shock to everyone."
The impacted area includes a 4,500 square mile area—nearly the size of Connecticut—along the Rocky Mountains from Fort Collins near the Wyoming border through Boulder, Denver, and Colorado Springs. More than 19,000 homes have been damaged or destroyed. At least 10 people have been killed. Thousands have been driven from their homes. Officials are saying this has been the largest airlift rescue effort since Hurricane Katrina.
Samaritan's Purse disaster relief volunteers assisted flood victims earlier this year in Catawba County, North Carolina, and Kingsport, Tenn., by going through homeowners' belongings, performing mud-outs and removing soaked insulation, and helping prevent the growth of mold.
"People are stepping up and being Jesus' hands and feet," Moyers said. "People are ready to go. We just need expertise in knowing how to get out there and what to do and how to service people in the best way. And with Samaritan's Purse coming in, that's what that team adds to us."
The response in Boulder County is still ongoing and expected to wrap up operations in early November. Please pray for the flood victims in Colorado during this difficult time. For those interested in volunteering, please visit the Samaritan's Purse Volunteer Network.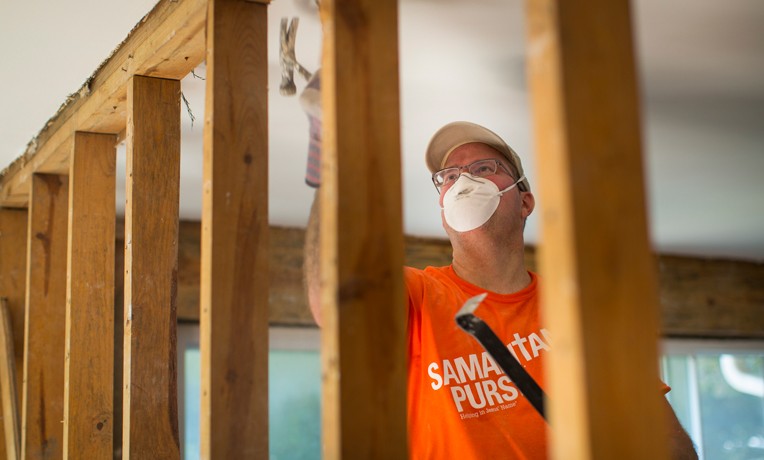 U.S. Disaster Relief
Samaritan's Purse mobilizes and equips thousands of volunteers to provide emergency aid to U.S. victims of wildfires, floods, tornadoes, hurricanes, and other natural disasters. In the aftermath of major storms, we often stay behind to rebuild houses for people with nowhere else to turn for help.
---
U.S. Disaster Relief 013622