As a new season of Operation Heal Our Patriots approaches, motorcyclists take to the western North Carolina mountains to support wounded veterans and their spouses.
One hundred and fifty motorcyclists on 114 bikes participated in the sixth annual High Country Warrior Ride on Saturday, May 20, 2017.
The event raised $15,750 to support the work of Operation Heal Our Patriots. Since 2012, this project of Samaritan's Purse has helped strengthen the marriages of veterans wounded in combat-related activities after 9/11. As many as two dozen of those riding in this year's event had themselves served in the military.
"Our wounded veterans that we support through Operation Heal Our Patriots really are victims of war, and that's something that Samaritan's Purse has supported around the world for a long time. But we also have victims of war right here at home," retired Marine Brigadier General Jim Walker, executive director of Operation Heal Our Patriots, told participants. "They are the ones who support those liberties that we enjoy today. That we enjoy on Sunday when we can go to church to freely practice our faith."
Over the past five years, Operation Heal Our Patriots has welcomed more than 685 military couples to Samaritan Lodge Alaska for a weeklong, Biblically based marriage enrichment experience at the edge of the wilderness.
Bless the Marriage of a Military Couple
013960
While in Alaska, more than 300 couples have rededicated their marriages to God and each other; 320 individuals have been baptized in Lake Clark—many of them having received Jesus Christ as Lord and Savior only hours or days beforehand.
A Ride to Honor and Support
The High Country Warrior Ride launched Saturday morning with bikes rolling out from the international headquarters of Samaritan's Purse in Boone, N.C. The Boone Chapter of the Christian Motorcyclists Association provided safety and security teams for the event.
Event founder Mark Speir said he started the ride after helping with renovations at Samaritan Lodge Alaska.
He said the ride is one small way to give back to those who've given so much. This summer he'll meet some of the veterans and spouses the ride serves as he plans to return to visit Samaritan Lodge.
"I was never in the military but I was raised to honor the men and women of our armed forces. They go and fight for our freedoms and all the blessings that we have in this country.
They go and sacrifice everything for our freedoms and they need our utmost support," said Speir, who also serves as head football coach of Western Carolina University.
"That's why it's on my heart. They came and did as Jesus commanded—to think of others above themselves. So it's just a blessing to go ride motorcycles on a Saturday afternoon to honor and support them."
The 2.5-hour ride snaked along a scenic stretch of the historic Blue Ridge Parkway, and returned along curvy and scenic highway 221 ending at Samaritan's Purse. Alex Garcia who travels each year from Hermitage, Pennsylvania, to ride in the event said he and his wife often pray together for wounded veterans and their families. "My wife and I just cry and pray. I was too old to fight alongside them after 9/11 but I can support them and I can pray for them."
This Summer's Season Starts May 28
Starting May 28, and for the next 16 weeks, 10 couples are scheduled to arrive every Sunday at Samaritan Lodge for a week of marriage-strengthening, Biblically based classes; available counseling with retired military chaplains; fellowship with other couples; and excursions into the Lake Clark National Park wilderness.
But the ministry to these couples only begins in Alaska. Year-round follow-up through the project's aftercare program includes regular contact and encouragement with aftercare chaplains, prayer support, help finding a local church, a reunion open to all participants, regional advanced training events, and crisis care.
Please pray for the combat-wounded veterans and spouses coming to Samaritan Lodge, for the Samaritan Lodge staff and volunteers, and for our military chaplains teaching and counseling with couples.
Pray that the Gospel would be shared clearly and that couples would experience the healing found only through faith in Jesus Christ.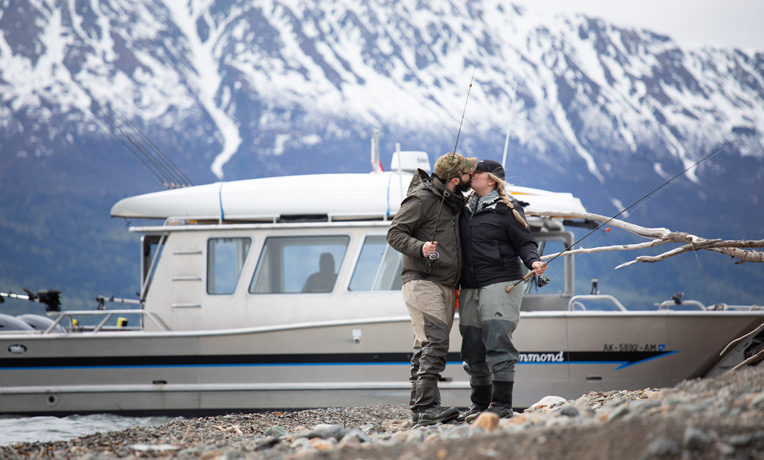 Bless the Marriage of a Military Couple
Operation Heal Our Patriots helps military couples build a strong spiritual foundation during a week of Biblically based workshops, relationship-building wilderness activities, and individual care by our retired military chaplains. We offer all this free of charge to these American heroes as a token of our appreciation for their service and sacrifice. Your gift will help us cover the costs—including transportation, lodging, activities, and long-term Family Care—so that we can help them find hope in the Lord.
---
Operation Heal Our Patriots 013960
Suggested Gift: $60