All 10 military couples rededicated their marriages and three individuals came to faith in Jesus Christ during the fourth week of Operation Heal Our Patriots.
All he knew was darkness. The horrors of war had followed him home, and Marine Staff Sergeant Tre Tremillo was suffocating beneath layers of despair and anger.
Images of death haunted him. His heart ached for fellow Marines still hospitalized with battle-related injuries. He mourned friends who had committed suicide.
"I found myself sitting at home and not wanting to get out. I didn't want to do anything," Tre said. "Everything was dark every day."
Tre turned to alcohol to ease anxiety caused by post-traumatic stress disorder (PTSD) and his drinking nearly cost him his marriage. Tre and his wife Tina came to Samaritan Lodge Alaska for Operation Heal Our Patriots because their deepest pain wasn't physical but invisible—emotional wounds for which they could find no healing.
"As strong as I was mentally and physically, I was hurting inside. I wanted to give up. I had nothing left," Tre said. "This was my last resort, not only for myself, but for my marriage."
In Alaska, Tre finally accepted the reality that he couldn't claw his way out of depression and darkness on his own. He needed something more. He desperately needed someone—Jesus Christ.
"I was trying to do things my way and not God's way," Tre explained. "I gave my life to the Lord this week. Now, we have a shot at not only making it, but thriving in our marriage and in our family."
Tina also prayed to receive Jesus as her Lord and Savior and the Tremillos were among four military couples baptized in Lake Clark during the fourth week of this summer's Operation Heal Our Patriots season.
They also renewed their marriage vows in a special ceremony at week's end. We praise God that all 10 couples in Week Four rededicated their marriages before the Lord.
Each week during the 16-week Operation Heal Our Patriots season, we bring 10 couples—each with at least one spouse wounded in combat or combat-related activities after 9/11—to Samaritan Lodge Alaska. There they participate in Biblically-based marriage enrichment classes led by retired military chaplains and also bond through activities such as fishing, hiking, kayaking, and wildlife viewing.
Walking a New Path
Tre's retirement after 12 years in the military did not start out as planned. His bouts of anger and drinking spun out of control, and he was eventually hospitalized for three months.
Tina knew that the man who'd come home to her wasn't the same man who had left. She wondered if she'd have to leave in order to keep her and the children safe.
"My wife said I was scaring her and the kids. I had to do something," Tre said.
Tre's PTSD, as well as traumatic brain injury, stem from a day in Afghanistan that he'll never forget. He was on foot patrol when an IED blew up a vehicle in front of him and knocked Tre unconscious.
After that, and after experiencing the trauma of trying to transition home after retirement, Tre gave up on religion.
"How could God exist if all this is happening to me? It didn't make sense," he said.
Yet, while in Alaska, Tre came to understand that God loved him and had never left his side. He surrendered his life to God.
"I'm opening a new chapter of life; a new door. Before this week, that door had nothing but pure uncertainty."
Tina, who said she'd never understood the Bible or the Gospel, now knows God is real because she has experienced His overwhelming, steadfast love.
"I had a lot of sadness, anger, and frustration when I came [to Alaska]. Today, I don't feel any of that. I feel more hopeful and at peace," she said. "I'm excited to bring Jesus into our lives and our marriage."
Tina and Tre decided to rededicate their marriage, because, now, with the foundation of their newfound faith in Jesus, they are more than ready for a new beginning.
"We're walking a new path with the Lord," Tina said.
A Relationship Matters
For years Whitney Ellison thought she was doing it right. She would have said she was a Christian because she went to church and tried to be a good person.
But after counseling with our chaplains during Operation Heal Our Patriots, Whitney discovered that something was missing—a relationship.
"You can't be a Christian just because you do good things. You have to have a relationship with God," Whitney said.
Whitney prayed to receive Jesus as her Lord and Savior in Alaska and was baptized. Her husband, Army Specialist Jacob Ellison, rededicated his life to Jesus and was also baptized.
"Talking to the chaplains, and being here with my wife, and seeing all that God has created, has really opened my mind as to how much I do need Jesus back in my life," Jacob said.
He struggles with PTSD, a traumatic brain injury, spinal cord injuries, a torn rotator cuff, and hearing loss. He also has memory loss so severe that he can go to a store just a few blocks away and forget what he needs once he gets there.
Jacob is also hypervigilant, which means it is hard for him to let his guard down and his anxiety is often very intense. The hypervigilance comes from being the lead driver in his convoy in Afghanistan.
"It's a scary thing when you're looking [in front of you] but explosions and bullets are flying behind you," he explained.
He and Whitney met at age 13 and married right after high school, just before Jacob enlisted. Whitney said she never imagined that her best friend would return from war so different and that the physical and mental injuries would last as long as they have—and possibly a lifetime.
Yet, Whitney said she can now rely on God for strength as she continues to encourage and support Jacob in his ongoing physical and mental healing.
"I don't need anything but for Jacob to keep fighting."
Please pray for the Tremillos and Ellisons as they grow in their relationship with Jesus Christ. Pray that many more military couples would come to faith in Jesus this summer in Alaska.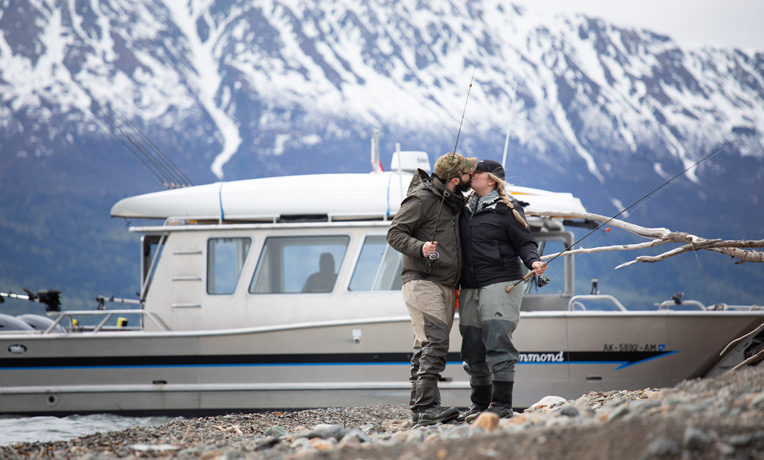 Bless the Marriage of a Military Couple
Operation Heal Our Patriots helps military couples build a strong spiritual foundation during a week of Biblically based workshops, relationship-building wilderness activities, and individual care by our retired military chaplains. We offer all this free of charge to these American heroes as a token of our appreciation for their service and sacrifice. Your gift will help us cover the costs—including transportation, lodging, activities, and long-term Family Care—so that we can help them find hope in the Lord.
---
Operation Heal Our Patriots 013960
Suggested Gift: $60