Samaritan's Purse returns to southern Georgia to help families affected by Hurricane Michael.
U.S. Disaster Relief
013622
SIGN UP TO VOLUNTEER FOR OUR HURRICANE RESPONSES
Families in Albany, Georgia, are no strangers to natural disasters. Samaritan's Purse first responded in the southern Georgia town after a string of severe storms and a tornado devastated the community in January 2017.
Now, this month, less than two years later, Hurricane Michael decimated Albany, leaving thousands of families to pick up the pieces—again.
"We pray that through this tragedy, good can come of it," said Ken Bevel, pastor of connections and local missions at Sherwood Baptist Church, where Samaritan's Purse has based our deployment. "We are praying that God uses this opportunity to help break barriers down and create friendships and relationships that will ultimately lead to us focusing on one purpose, and that is to win people back for the cause of Christ."
Overwhelmed to See God at Work
The morning before Hurricane Michael made landfall, homeowners Eula and Raymond Best felt prompted to evacuate their home of 20 years—saying that God must have had them on His mind. They never thought that Michael would strike Albany as a major hurricane.
When they returned home a week later, their yard was nearly unrecognizable, cluttered with downed tree limbs and storm debris. Raymond, a disabled veteran who was also the recipient of a liver transplant in 2001, didn't know how they would get any of the necessary work accomplished.
Still, their faith in God gave them hope. "I have been overwhelmed by God's grace and mercy since the storm came. I just see God—I can't say anything else, I just see God," Eula said.
The couple was ecstatic when Samaritan's Purse volunteers showed up to clear the yard.
"It is just like a yard full of angels. Y'all will always be in my heart—you give me such a relief, it's like weight taken off of my shoulders."
'They See Hope When They See Help'
Samaritan's Purse volunteers Fred and Joyce Jones traveled up from Albany to serve hurting families in Socastee, South Carolina, in response to Hurricane Florence. They spent time there helping homeowners until Hurricane Michael began hurtling toward their home back in Georgia in early October. Together with a group from their church, they felt they had to return south in preparation for the storm. "Within an hour, we had our bags packed and were on the road," Joyce said.
The couple, who has served with Samaritan's Purse for 13 years on various deployments, suffering through flooding in 1994 and again in 1998. They prayed that Hurricane Michael's destruction would leave them unscathed. The ferocious winds, however, wreaked havoc—knocking down several trees in their yard.
They heard that Samaritan's Purse was coming to town and were focused not on their own damage, but helping those in the community. "We chose to go ahead and volunteer, fill out a paper, and pray that we would get help," Joyce said. That prayer was answered when her team surprised her by showing up one day to her own property.
"I was nearly in tears because it meant so much. We could not physically have cleaned up that property ourselves in a short amount of time—which meant we weren't going to be able to volunteer," she said.
The couple never thought that they would be on the other side of the orange shirts. "We feel loved on and feel like we can give love back to homeowners," Fred said. They feel that they will be able to better connect with homeowners having gone through disasters themselves. "They need hope," Joyce added. "They can see hope when they see help."
Fred and Joyce will continue to serve with Samaritan's Purse in Albany and encourage others to do the same. "We just need volunteers to come and be on the team to go out and help these people," Fred said. "Just volunteer—even if you can't run a chainsaw, you can rake a yard or love on homeowners."
Since our arrival on Oct. 13, Samaritan's Purse has received more than 1,600 requests for assistance. Please continue to pray that God will guide our efforts here in Albany.
—
Samaritan's Purse is responding to needs in hard-hit areas of the Florida Panhandle and Georgia where Hurricane Michael struck in early October. Volunteer teams also continue recovery efforts with one base of operations in South Carolina and three established in North Carolina where Hurricane Florence caused devastating flooding and wind damage. Please continue to pray for homeowners as they rebuild their lives after these devastating storms.
SIGN UP TO VOLUNTEER FOR OUR HURRICANE RESPONSES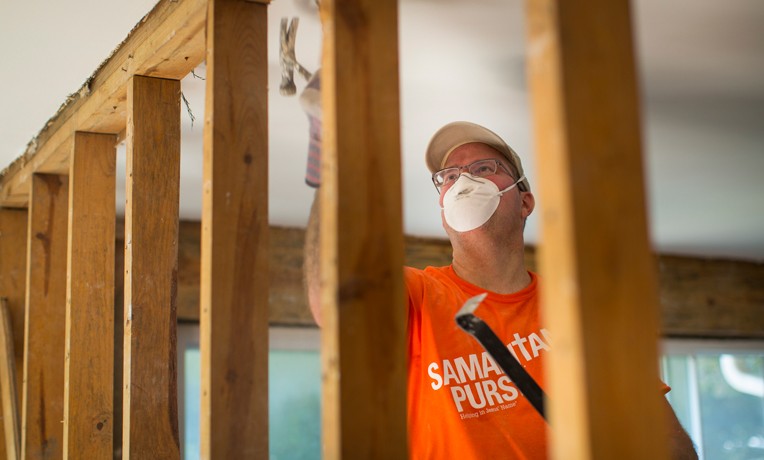 U.S. Disaster Relief
Samaritan's Purse mobilizes and equips thousands of volunteers to provide emergency aid to U.S. victims of wildfires, floods, tornadoes, hurricanes, and other natural disasters. In the aftermath of major storms, we often stay behind to rebuild houses for people with nowhere else to turn for help.
---
U.S. Disaster Relief 013622