The Samaritan's Purse response in Paradise and Butte County continues to grow as we serve homeowners in Jesus' Name in the wake of the Golden State's deadliest wildfire.
SIGN UP TO VOLUNTEER IN CALIFORNIA
Teri Lindsay woke the morning of Nov. 8 to violent knocking on her front door. Her neighbor was frantic. "You gotta get out!" she remembers the neighbor insisting. She could see the smoke-filled air and her other neighbors scrambling to leave. The explosion of propane tanks grew louder and louder as the fire approached.
Teri and her 7-year-old daughter gathered what valuables they could and rounded up their pets for a quick evacuation. They would meet up with her husband, Steve, and their two older children who had been out of town when the fire started. Soon they were driving away from their house, knowing this could be the last time they saw it.
It had been a close call. Less than 10 minutes after leaving their neighborhood, the Lindsays' house collapsed upon itself.
Thousands of Butte County homeowners had similar experiences, some involving harrowing escapes from fast-moving flames. Some reports say that the fire traveled fast enough to burn 80 football fields in a minute. It was devastating.
Before it was fully contained on Nov. 25, the Camp Fire would destroy over 14,000 homes, scorching more than 150,000 acres of Butte County and killing 85 people.
Help that Heals
When the Lindsays were finally able to return home, their neighborhood and, in fact, nearly all of Paradise, was in ashes. The home they had owned for only two and a half months was gone.
"We had just finished fixing it up the day before the fire," Teri said. "Everything was perfect."
Samaritan's Purse has been working in Butte County since late November, sending out volunteers to be a ministry of presence and to help with recovering valuables not destroyed by the fire. Volunteers have been carefully searching through the ashes to find keepsakes and other items.
Despite the Lindsay's total loss of property, our volunteer team was able to salvage items that had been in the family for decades. A set of grandma's knives, gold from a cross, and antique china were among the most meaningful discoveries.
"I know it sounds weird when you look at this crispy [burned] knife," Teri said. "But it's like, 'That was grandma's crispy knife.' The kids will see those over there and remember."
During the weeks since the Camp Fire swept through Butte County, families like the Lindsays have been thrust into the difficult realities of living in tent villages, cramming into homes with multiple other families, or living in campers all while wondering if they will ever experience "normal" life again. This puts a strain on families who've experienced so much loss.
God continues to work through our volunteer teams to bring comfort to these hurting people even as we help them sift through ash where their homes once stood.
"This is the first time we've cried since this happened. We've just been trying to be strong for the kids," Steve said. "And it's just overwhelming to know that we're not alone and that there's a lot of people out there that care."
At our base of operations at Calvary Chapel Chico, we have received more than 1,500 work orders from homeowners needing assistance with recovery efforts, and volunteer teams are responding as areas slowly open up.
The need for volunteers will continue to grow as we gain access to the more populated areas devastated by the fire. But God is already at work in parts of the region as we serve hurting residents. We praise Him that, so far, more than two dozen residents have received Jesus Christ as Lord and Savior.
One of our longtime volunteers, John Mattera, a Paradise resident whose home also was destroyed, responded to his painful loss by serving in his own community.
"I've been connected to Samaritan's Purse for a long time. With Operation Christmas Child, I'm a year-round volunteer. I have been for 12 years. And last year I got to go up to Redding for the first time and volunteered for the Carr Fire up there. This year it hit home, we lost our home," John said, choking back tears. "The first thing I wanted to do was be part of the healing and the rebuilding of Paradise."
Please pray for so many hurting people in this part of California. Pray also for compassion and boldness in witness as Samaritan's Purse teams and Billy Graham Rapid Response Team chaplains minister to those affected by the fire.
SIGN UP TO VOLUNTEER IN CALIFORNIA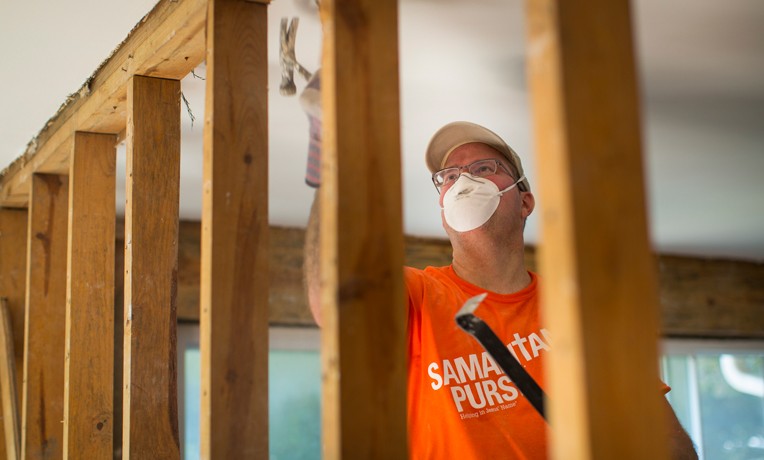 U.S. Disaster Relief
Samaritan's Purse mobilizes and equips thousands of volunteers to provide emergency aid to U.S. victims of wildfires, floods, tornadoes, hurricanes, and other natural disasters. In the aftermath of major storms, we often stay behind to rebuild houses for people with nowhere else to turn for help.
---
U.S. Disaster Relief 013622