Week 1 of the Operation Heal Our Patriots 2018 summer season ended with many lives and marriages changed through the power of the Gospel. Pray as Week 2 is underway!
Military couples at Samaritan Lodge started last week with a Memorial Day observance for fallen veterans but ended the week with celebrating new life in Christ.
Army Staff Sergeant Kyle Welch was one life that was changed last week as he experienced the healing power of Jesus Christ. He said the week with his wife Jennifer in Alaska came at just the right time to stave off a serious crisis.
"It was our time to be up here to experience what we did," Welch said. "I was on the verge of ending my life last week. It got really bad. She almost bailed on the trip because it got so bad. But for some reason we decided to come here. It's a miracle."
Each week for 16 weeks during the summer we fly as many as 10 wounded veterans and their spouses to Samaritan Lodge Alaska for Operation Heal Our Patriots. Through Biblically-based marriage enrichment classes and specially designed wilderness excursions, military couples experience the power of the Gospel and the beauty of God's creation. God is faithful week by week to transformation hearts, lives, marriages, and families.
During classes, outings, and conversations with the retired military chaplains serving at Samaritan Lodge, Welch and his wife Jenn realized they needed more than just crisis intervention. They needed to experience new life in Christ.
The Welches decided to trust Jesus to be their Lord and Savior. They recommitted their marriage to God and both were baptized on Friday.
"I feel like I am 100% whole for the first time in 10 years," Kyle said. He was wounded several times while deployed to Iraq, 2007-2009.
Last week 12 participants made decisions to follow Christ, and 10 of them were baptized. Additionally, three couples chose to recommit their marriages and families to God.
Navy Petty Officer 2nd Class Dustin McCann said that when he and his wife, Jennifer, decided to follow Christ last week, they also committed to turning their marriage around. Dustin said it helped save his marriage—and his life.
"Coming up here was definitely a life-altering experience not only for our marriage, but also next week I'll be walking around the earth," he said. "We were on that verge of this time next year not being married. I can honestly say 1000% and I'm pretty sure Jen can as well that this week changed everything for that. I got baptized, I devoted my life to God, and I never would've done that if it wasn't for this trip."
Combat-Wounded Community
Operation Heal Our Patriots is not just a once-in-a-lifetime trip to Alaska that ends when couples return home to their everyday lives. The community formed with fellow military couples during their time at Samaritan Lodge is one of the most valuable and practical gifts they receive.
Connecting with other couples who have experienced similar travails provides veterans and spouses a life-long network they can turn to in those inevitable dark days and moments of struggle.
Army Staff Sergeant Tyler Hall recognized the importance of this. "Being able to spend time with our brothers and sisters that are in the same boat as us—that was amazing," he said. "All of you know about that brotherhood that we have in the military and how special that is."
Army Sergeant First Class Jake Marcum said it's a week they'll never forget. "I've been out for about two and a half years now, and this has probably been the best week that I've had since I got medically retired," he said. "Not only because I got to hang out with some awesome service member friends, but also because I got to reunite with my beautiful bride over there. From the bottom of mine and my wife's heart, thank you for having us. We are definitely going to cherish this the rest of our lives."
Please pray for these military couples and their families that God would strengthen and sustain them in their commitments to Him and in their community with each other. Pray also as a new week 2 of Operation Heal Our Patriots is underway. Pray for these 10 new couples who arrived last night at Samaritan Lodge. Pray for protection and peace for their families back home and for many lives to be changed in Alaska.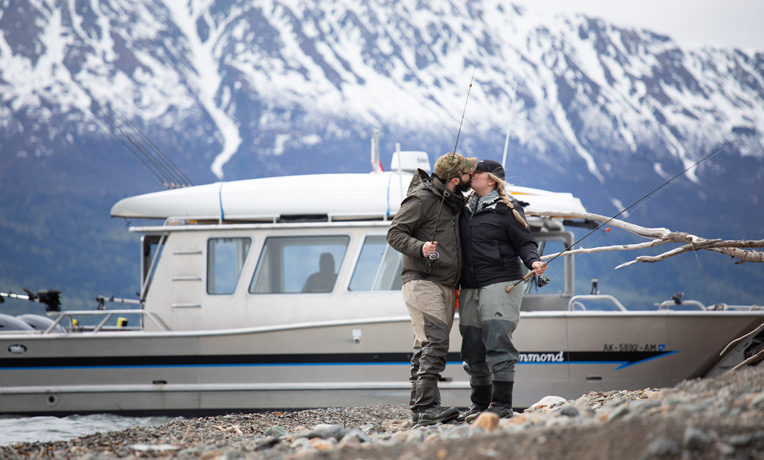 Bless the Marriage of a Military Couple
Operation Heal Our Patriots helps military couples build a strong spiritual foundation during a week of Biblically based workshops, relationship-building wilderness activities, and individual care by our retired military chaplains. We offer all this free of charge to these American heroes as a token of our appreciation for their service and sacrifice. Your gift will help us cover the costs—including transportation, lodging, activities, and long-term Family Care—so that we can help them find hope in the Lord.
---
Operation Heal Our Patriots 013960
Suggested Gift: $60