Samaritan's Purse welcomes 16 Kentucky families into newly constructed homes nearly two years after a tornado leveled the town of Mayfield.
U.S. Disaster Relief
013622
On what looks like an invoice for their new home, each of the line items in the frame is marked "paid." To make it clear that it is as free to the recipient as Christ's gift of salvation, red block letters cover the whole page with an additional "paid in full."
"I thought I lived a good life, but when I come in here and seen that 'paid in full' thing, I feel like I've got to have my shoes off all the time—this is my dream," said Marrico Galbreath.
The Galbreath family is one of 16 that received keys to a brand-new home on Friday, September 29. One week later, Samaritan's Purse visited the New Hope Acres subdivision as residents were beginning to make their houses feel like home.
'A Long Road'
Whether unpacked and fully decorated for fall or still dealing with a maze of boxes, many new homeowners said their first week at the new house felt surreal.
"It's been very overwhelmingly shocking," said Chelsie Lee, mother of two young children. "I feel like I'm dreaming, and I'm going to wake up."
Finding a stable place to live had been a nightmare for Lee, who estimates she and her kids have moved 10 times in two years.
"Just about every single time we would get somewhere and get comfortable, it would just be jerked right out from under us," said Lee.
As her 3-year-old daughter, Eliza, played in the front yard, Lee explained that this move marks the start of a new chapter for her family. Though it's been a long road home, she said she knows God brought her to this point.
"I'm sure there's going to be things that are going to come our way, but I mean, it's still going to be a beautiful story," said Lee. "Really, what can come against me when I've got Him?"
'Ain't No Better Friend than God'
The EF4 tornado that came through Western Kentucky two years ago decimated everything in its path, and each of the survivors gifted with a home in New Hope Acres experienced great losses in that storm. Still, many praise God for his protection on the night of December 10, 2021.
Mabel Lovelace was hunkered down in a closet as the tornado, sounding like a train that had jumped from its tracks, barreled through her home. When it had passed, Lovelace was trapped under the weight of her fallen chimney. She clutched a small flashlight, spitting out teeth that had been knocked loose by a clothes rod, and called for help. Neighbors came to her rescue, and in the morning light, she saw that the closet was the only thing remaining of her home.
The first morning Lovelace woke up in New Hope Acres, she shouted, "Thank you, Lord!" before her feet even touched the floor. "The only thing I could do was shout to God."
Sometimes, Lovelace still mourns the decorations and mementos that lined the walls of her old home, but she's choosing to fill her new walls with praise.
"I got a friend, and my friend is a good friend," said Lovelace. "Ain't no better friend than God."
Rest in the Wake of the Storm
Lovelace said she never dreamed she would own a home at her age, and the Galbreath family was renting-to-own before the storm, which left their hopes in ruins.
"I woke up that next morning and I walked down the street by myself, and I just started crying," said Galbreath. "I lived here all my life, and you don't even recognize your whole city."
Galbreath said he immediately made up his mind to somehow still realize his dream of home ownership. He sprang into action but kept hitting roadblocks until the situation began to feel hopeless.
"The Lord was saying, 'Be still,'" said Galbreath. "Be still … two weeks later we got a call from Samaritan's Purse saying we got approved for our house."
Every family in New Hope Acres has seen God uniquely work in their lives. Chasity Penney explained that her relationship with God has become a lot closer since the tornado.
"I know He is the one that put me here," said Penney. "Before, I'd pray every day, but not every single day did I have the deep conversations that I see myself having with Him now."
As much as owning a home means to Penney, she said she is most excited about what it means for her children.
"I know if I was to leave this world tomorrow, these babies would still have this home," said Penney. "There's no shadow on my shoulders. This is mine, and that in itself is the biggest blessing ever."
Once completed, the New Hope Acres subdivision will be home to 60 families. On beautiful days, these families often visit the work site to see the progress. Their kids play with friends who have already moved in, and adults talk about putting up lights for Christmas.
As Thanksgiving approaches, many of the first 16 residents look forward to playing host for the first time.
"Y'all can help with the food," Lee recalls telling her extended family. "Come over to my house and cook it, but I've got the place."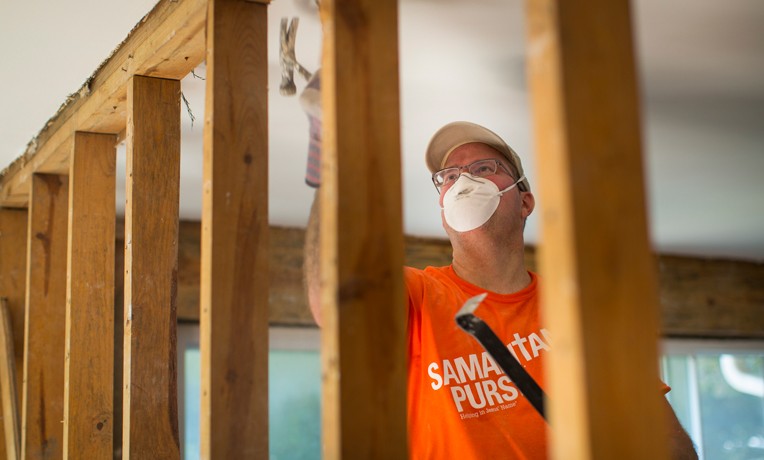 U.S. Disaster Relief
Samaritan's Purse mobilizes and equips thousands of volunteers to provide emergency aid to U.S. victims of wildfires, floods, tornadoes, hurricanes, and other natural disasters. In the aftermath of major storms, we often stay behind to rebuild houses for people with nowhere else to turn for help.
---
U.S. Disaster Relief 013622