Pioneering African surgeons are providing lifesaving operations at Tenwek Hospital in Kenya.
An orphan named Kopokok was rushed to Tenwek Hospital from a drought-stricken corner of Kenya. His body was ravaged by rheumatic heart disease as well as a lack of food.
Dr. Agneta Odera, a young Kenyan surgeon, hurried Kopokok into the operating room to receive a new heart valve. Kopokok was one of the first to undergo open-heart surgery at Tenwek in 2008.
"Kopokok made a remarkable recovery, and within two weeks he was playing soccer," Dr. Odera recalls. "In fact, I had to slow him down." Tenwek helped place Kopokok in a Christian-run children's home. Ten years later, he is a towering young man who is thriving in school and surrounded by a loving adoptive family. When he returns to Tenwek for his annual checkup, he always picks up a soccer ball, which he wears out with excessive footwork playing on the pitch.
"It's amazing to be involved in God's work here at Tenwek and see the transformation in lives that He is bringing to us through our cardiac program," Dr. Odera says.
Rheumatic heart disease is prevalent throughout sub-Saharan Africa. Research shows that the disease, if left untreated, can claim one in five children before the age of 15 and four in five before the age of 25. Many of those who survive need surgery to replace damaged heart valves.
Samaritan's Purse Helping to Expand Hospital
Dr. Odera and Dr. Arega Leta of Ethiopia are poised to help lead the fight against the devastating effects of this disease. They will be the first participants in a new surgical training program at Tenwek Hospital in Kenya, which will be on the cutting edge of providing these lifesaving surgeries.
Hundreds of children and adults are now waiting to receive this operation. Soon Tenwek will be in a better position to provide the critical care people like them need. The hospital, located 150 miles from the capital city of Nairobi, will be constructing a new 80,000-square-foot, 100-bed cardiothoracic center that will serve patients throughout East Africa and beyond.
Tenwek is a longstanding partner hospital of World Medical Mission, the medical arm of Samaritan's Purse. We're committed to providing $4 million toward the $45 million cost of building and equipping this five-story facility.
The center will include a cardiac catheterization lab and six operating rooms for cardiothoracic work specifically. One floor will be dedicated to endoscopy and cancer work. A staff of about 250 will run the unit, where about 2,000 heart operations alone will be performed each year.
As cardiothoracic fellows for the next three years, Dr. Odera and Dr. Leta will be trained to take the lead not only on heart surgeries, but also on pressing thoracic procedures, including operations for patients with cancer of the esophagus—the leading cancer in Kenya.
Tenwek Hospital Cardiac Building Project
014035
"When I first came here 13 years ago, heart surgery was something that was never dreamt about," she explained. "No one would think that a small, rural-based mission hospital would do heart surgery, let alone open-heart surgery. But through multiple confirmations, which I believe were from God to so many people here who had this vision, it became clear that this is what God wanted us to do."
'We Treat, Jesus Heals'
Once the cardiothoracic center opens, Dr. Odera and others believe it will become the premiere center in sub-Saharan Africa. "God is extending His arms and reaching out. We're like a light on a hill shining out, reaching far and wide to bring light to the darkness," she said.
Dr. Odera points to Tenwek Hospital's motto—"We Treat, Jesus Heals"—and its faithful practice of praying with every patient and making sure they hear the Good News of Jesus Christ while they're there—whether through the doctors or medical staff or the hospital chaplains.
This combination of physical care and spiritual outreach is what attracted Dr. Leta to this mission hospital. "God gave me the dream of coming to Tenwek and do this cardiothoracic fellowship to touch His people and restore their health in His name," he said.
"If my Lord and Savior Jesus Christ could leave Heaven and come to this world and lay down His life to save me, a sinner, that is my motivation to reach out to the most underserved and help them with their physical infirmities and also lead them to know the ultimate Savior and Healer, Jesus Christ."
"God is extending His arms and reaching out. We're like a light on a hill shining out."
Dr. Odera and Dr. Leta initially crossed paths at Tenwek when they did their general surgery training. They completed their general surgery residency training at the end of 2012 and were the first two graduates in 2013.
"We are so pleased with them and what they've accomplished. I feel like a proud mama," said Dr. Carol Spears, a career missionary surgeon at Tenwek, who oversaw the two during their residency. "They're highly gifted, smart, talented surgeons. It's just amazing to see how God led them to us to be trained initially as general surgeons and now to become equipped as cardiothoracic surgeons to serve in a different role here."
Dr. Russ White, the hospital's veteran chief surgeon, called Dr. Odera "probably the most highly trained female surgeon in sub-Saharan Africa. She'll be the first female congenital heart surgeon, and she's on fire for God."
He said similar praise for Dr. Leta: "After finishing his general surgical residency here, Dr. Leta helped run a general surgical training program at a hospital in Malawi and did a great job there. He's a deeply humble, gentle guy who loves the Lord and loves to share his faith."
Both Dr. Odera and Dr. Leta are grateful for the influence Samaritan's Purse has had in their lives, including through Dr. White and Dr. Spears—both of whom first came to Tenwek via World Medical Mission. "Every place I've been to, I've seen the footprints of Samaritan's Purse and its impact for the Gospel of Christ," Dr. Leta said.
Dr. Odera agreed. "There are so many people I could mention," she said. "They've been great teachers and mentors and a tremendous blessing, both spiritually and in my career. If I was to do it all over again, I'd do it through Tenwek again."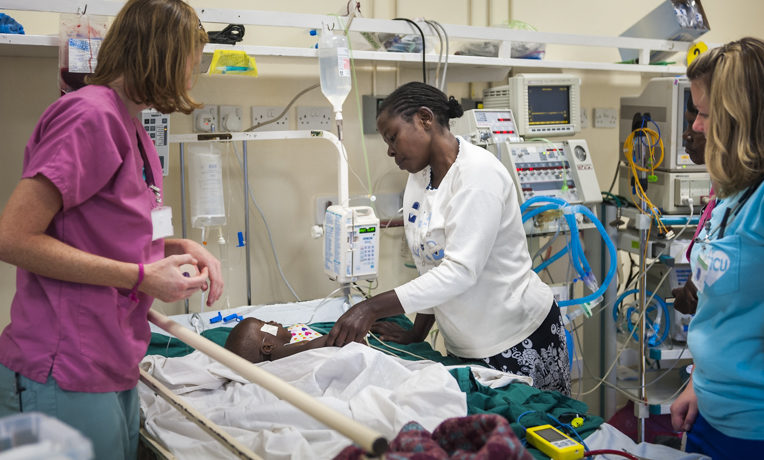 Tenwek Hospital Cardiac Building Project
The new cardiothoracic center at Tenwek Hospital in Kenya will be a 295,000-square-foot, 125-bed facility serving patients across East Africa and beyond. With six new operating theaters to be built, this project will increase the mission hospital's capacity to perform critical heart surgeries and other pressing procedures, including operations for those with cancer of the esophagus. Your gift of any amount will help with construction as this long-time medical partner of Samaritan's Purse continues to serve the hurting in Jesus' Name.
---
Tenwek Hospital Cardiac Building Project 014035