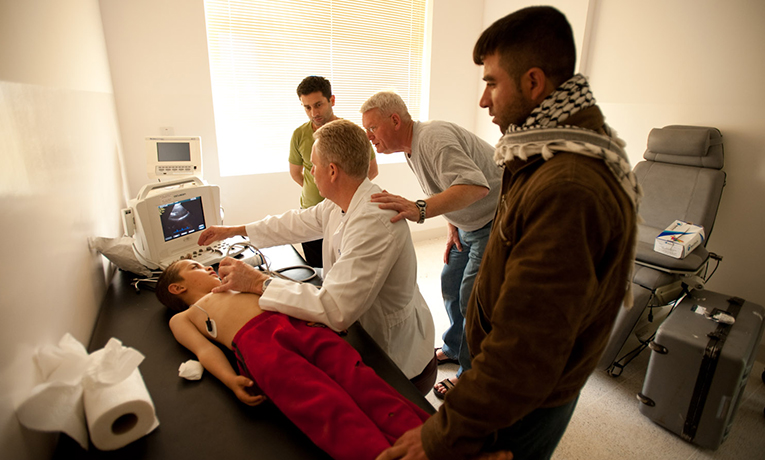 Mission hospitals and clinics can be such effective witnesses for the Good News of Jesus Christ
In many locations overseas, quality health care is often unavailable, and individuals die of illnesses that can be easily prevented or treated. That's why mission hospitals and clinics can be such effective witnesses for the Good News of Jesus Christ. When patients receive competent, compassionate care in response to their needs, their hearts are often opened to the message of salvation. Samaritan's Purse seeks to win people to faith in Jesus Christ by serving evangelical facilities through World Medical Mission.
WE PROVIDE HOSPITALS AND CLINICS WITH QUALIFIED VOLUNTEERS IN SPECIFIC AREAS OF NEED
We communicate regularly with medical facilities overseas to learn about their unique ministries and to understand the type of volunteers needed. World Medical Mission representatives personally visit hospitals and clinics to stay acquainted with their leadership and to keep informed about their situations. Short-term medical personnel are often needed to cover for missionaries on home assignment, in response to heavy patient volume, or to provide specialized treatment or training unavailable in the field. We screen volunteers to identify those who are best suited for each situation, and we coordinate all arrangements between the volunteer and the hospital or clinic. Our services are available at no charge to the facility or to the volunteer.
WE PROVIDE HOSPITALS AND CLINICS WITH CRITICALLY NEEDED EQUIPMENT AND SUPPLIES
World Medical Mission operates a 10,000-square-foot warehouse where we receive and recondition donated items for shipments to dozens of hospitals and clinics around the world. Equipment is carefully checked to ensure that it is appropriate for each location. The warehouse also stocks and ships standard hospital supplies. These free services enable mission facilities to raise their level of care and strengthen their witness for Christ.
WE OFFER TECHNICAL EXPERTISE AND SUPPORT
Malfunctioning equipment can cripple a mission hospital or clinic. Repairs and maintenance often require technical expertise beyond the capabilities of missionaries or national staff. World Medical Mission staff includes electrical and biomedical technicians who travel worldwide to install, maintain, and repair hospital equipment and utilities.
Our help often makes it possible for mission hospitals and clinics to keep their doors open when they might otherwise have to close due to shortages of staff or materials. By offering desperately needed assistance–frequently on short notice–we help them prevent deaths, treat diseases, and make disciples. This is part of our contribution to fulfilling the Great Commission worldwide.
Please call World Medical Mission at (828) 262-1980 if you have any further questions regarding our volunteer opportunities.