Samaritan's Purse continues work in Hidalgo County, and God is using our volunteers to turn many hearts toward Him.
U.S. Disaster Relief
013622
When a ferocious thunderstorm jolted Stacy Francois awake at 5 a.m., she cleared the cob webs from her mind and started checking around her house in Weslaco, Texas. She grew anxious when she noticed water coming under the front door. The scene brought back frightening memories of floodwaters seeping into the same home three years before.
Stacy grabbed her two dogs—Benjamin and Charlie—and rushed back to her bedroom. The three huddled atop her bed, as the water kept rising.
Just then, her front door burst open and Stacy heard someone yelling, "Is anybody home?"
Stacy shouted back, "I'm back here."
Her neighbor answered, "I figured you'd probably still be here. I got a boat outside."
Stacy, who has limited mobility, was thankful her neighbor was concerned about her welfare and that he was rescuing her and her dogs. Stacy grabbed her dogs and slogged through the thigh-high muddy water to get to the boat.
Volunteer in South Texas
They were dropped off at City Hall, then she found her way to a hotel that allows pets. Stacy began to wonder how she was going to get her ruined possessions out to the curb and her other belongings to a storage unit until she could find a new home to rent.
When New Life Baptist Church signed on to host Samaritan's Purse staff and volunteers during our post-flood deployment in Hidalgo County, Texas, Stacy rejoiced because that's where she's a member. She requested assistance, and a team of seven of our orange-clad volunteers came alongside her in her time of need.
For about four hours, we removed waterlogged furniture and placed any salvageable material in a neat pile in the front yard.
After everything was cleared out and we presented a Bible to Stacy signed by each volunteer, team leader Mike Parker asked her how she was going to transport everything to the storage unit.
"My friend Esmeralda has a truck," she said. Mike thought a minute, then called our staff stationed at the church.
With a big smile on his face, Mike told Stacy: "Good news. We'll load everything in our vehicles and haul it to the storage unit for you."
Through tears, Stacy said, "I can't thank you enough."
The very next day, Stacy did thank us, in a way, by serving others. She came to the church, put on an orange Samaritan's Purse shirt, and volunteered, taking work orders on the phone from distressed homeowners seeking help—just as she had.
"They came in Jesus' Name and they shared the Word."
"Your team members were such a wonderful group of people," Stacy said. "They came in Jesus' Name, they were so sweet, and they shared the Word. They were such a blessing, I wanted to give back."
Sharing the Good News
Stacy is one of more than 150 people so far who have given of their time and talent to assist more than 50 households during our deployment in South Texas. More than 30 individuals have received Jesus Christ as Lord and Savior during this response.
Read Salvation Stories from Hidalgo County
Families are serving together. Stevie Mendez of Weslaco volunteered one day and showed up the next with his girlfriend Katiana and younger sister Julissa. That weekend, the threesome was joined by Stevie and Julissa's mother Esmeralda.
"Afterward, I was telling my family how great of an experience it was, especially when we gave a Bible to a family and the mom was crying tears of joy," Stevie said. "Now with them here, they get to experience it themselves."
Julissa is glad their family is pitching in and helping out together. "We do it from the heart," she said. "God created all of us, and Jesus loves all of us, so we need to share the Gospel with everybody so they, too, can know Him."
When Ene Pena heard how South Texans were suffering after the June flooding, she wanted to volunteer with Samaritan's Purse. So, she drove eight hours from Dallas to help in Hidalgo County. She was already familiar with our organization (and the Billy Graham Evangelistic Association) as she served as an usher last year in Waco and Longview during Franklin Graham's Decision Texas: The Lone Star Tour.
"Though I've never done this kind of work—mudding out a flooded home—I still enjoyed it," she said. "Seeing their faces after we help is so rewarding. But even greater is when someone gives his or her life to Jesus. God is so good. There's rejoicing in Heaven, and we're rejoicing here, too."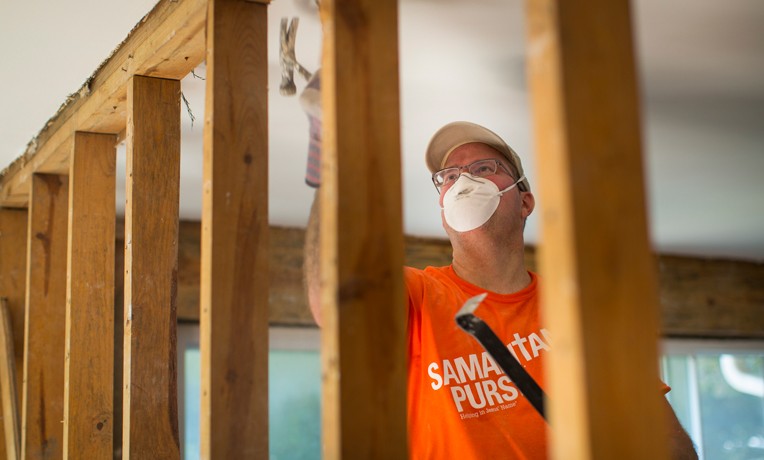 U.S. Disaster Relief
Samaritan's Purse mobilizes and equips thousands of volunteers to provide emergency aid to U.S. victims of wildfires, floods, tornadoes, hurricanes, and other natural disasters. In the aftermath of major storms, we often stay behind to rebuild houses for people with nowhere else to turn for help.
---
U.S. Disaster Relief 013622