Thousands from across the country and the world gather in Orlando to thank God for blessing boys and girls through Operation Christmas Child
The world converged on Orlando this week, all for one purpose: to give God glory for His faithfulness in providing more than 100 million shoe boxes filled with simple gifts for children across the globe.
Celebration Event Photo Gallery
Operation Christmas Child volunteers from 102 countries, including about 1,500 from across the United States, gathered at the Orange County Convention Center with about 9,000 other attendees on Saturday night to celebrate the milestone, and to get inspired to lead the way in packing the next 100 million shoe box gifts.
"It's something God has done and we want to give Him the glory," said Franklin Graham, president and CEO of Samaritan's Purse.
The special celebration included music by Michael W. Smith, Matthew West, Ricky Skaggs, the Tommy Coomes Band, Dennis Agajanian, and the African Children's Choir.
Levi Bollinger, a volunteer from Missouri, was among thousands who traveled from far and wide to attend.
"The celebration was awesome," he said. "It was a great reason to celebrate, and we had lots of fun here glorifying God and giving Him the glory he deserves."
About 500 volunteers from 102 countries flew countless hours to celebrate. Casey Rogers, 18, drove 11 hours from her home in Washburn, Tenn., just to be there. The event turned out to be well worth her time, rekindling a passion to serve overseas. She had been to Uganda on a mission trip in 2010 and felt she was supposed to return, but had not been pursuing that.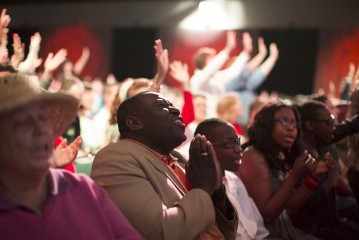 "Now I'm just ready now to walk away, and leave it all, and go back," she said after hearing stories and seeing videos of children receiving shoe box gifts. "I didn't realize the impact that this event was actually going to have on me."
Everyone involved with the event and concert—volunteers who collect shoe box gifts and ministry partners who distribute them, the musicians and the speakers—pointed out that the project's success is due to the Lord's faithfulness throughout the years.
"Lord, we celebrate Your hand of blessing upon Operation Christmas Child in collecting 100 million shoe boxes," prayed Ross Rhoads, whose church in Charlotte, N.C., was the first one in the United States to pack shoe box gifts in 1993.
Well-known Gospel and bluegrass musician Ricky Skaggs reflected on his travels with the project. In 1995, he passed out shoe box gifts in war-torn Bosnia. He remembered seeing the massive, Russian-made Antonov cargo planes being loaded with the boxes and thinking how wonderful it was that they were being used to bring blessings instead of bombs.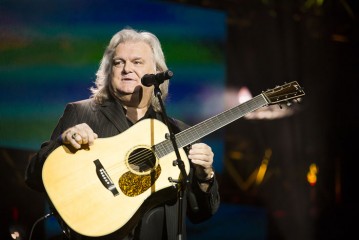 "Seeing them pull up, and knowing that those planes were made to deliver missiles against the U.S. … seeing those planes that were meant for destruction, and seeing how the hand of God was being used to take gifts and the love of Jesus Christ around the world—that's a God I can serve, right there," Skaggs said.
Each gift is more than the simple items inside the colorfully wrapped and decorated boxes. They offer local churches worldwide the opportunity to share the love of Jesus in tangible form, as Matthew West reminded the crowd.
"With 100 million shoe boxes, we've had 100 million opportunities to share with an otherwise forgotten child about that gift of forgiveness [when Jesus died for our sins] that has changed our lives, and that is what we celebrate tonight," said Matthew West, a Grammy-nominated musician who has traveled to Colombia and Panama to distribute shoe box gifts.
The renowned musicians shared the stage with several young adults who received shoe boxes as children, and who now live in the United States and pack shoe box gifts to send to children overseas.
Livia Satterfield and Ted Foreman grew up in Romania and Russia, respectively, and each received a spark of hope in their orphaned hearts when they were given a shoe box gift. Livia recalled getting just want she wanted most in her box—hair clips, "her biggest priority." Ted's favorite item was a washcloth, his own personal towel that he did not have to share with many other children in his orphanage.
Livia and Ted both ultimately came to faith in Jesus Christ after a journey that started when they heard the Gospel alongside their shoe box. Millions of children around the world continue to have the same opportunity, and to learn even more about having a personal relationship with Jesus, when they have the chance to participate in The Greatest Journey, a 12-lesson Bible study offered after a shoe box.
Cissie Graham Lynch, Franklin's daughter, reminded the crowd that Operation Christmas Child and The Greatest Journey are having an eternal impact, not only on children, but on entire communities.
"It starts with a shoe box, and it can end with a church," she said, describing a boy she learned of on a visit to Guyana. He enrolled in The Greatest Journey after receiving a shoe box gift, and after he graduated, he went home to share his newfound faith in Christ with his family and friends. As a result, a new church has been planted in his community.
Finally, Franklin Graham took the stage and reminded the crowd that Jesus died and rose again to save them from being separated from God for an eternity.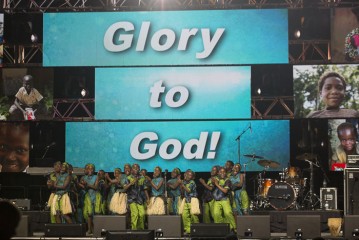 "We've got to have faith like a child if we're willing to believe and trust in God," he said. "God wants to heal your heart."
As they celebrated, the crowd praised God for using such a simple means to heal the hearts of millions of children.
"Every shoe box is an opportunity for the Lord Jesus Christ to wrap His arms around a child," Graham said.
Randy Riddle, director of Operation Christmas Child collection in the United States, summed up the celebration and event well.
"One hundred million shoe boxes have been collected, but it comes down to the one," he said. "The one child receiving one gift, receiving one opportunity to come to know Jesus."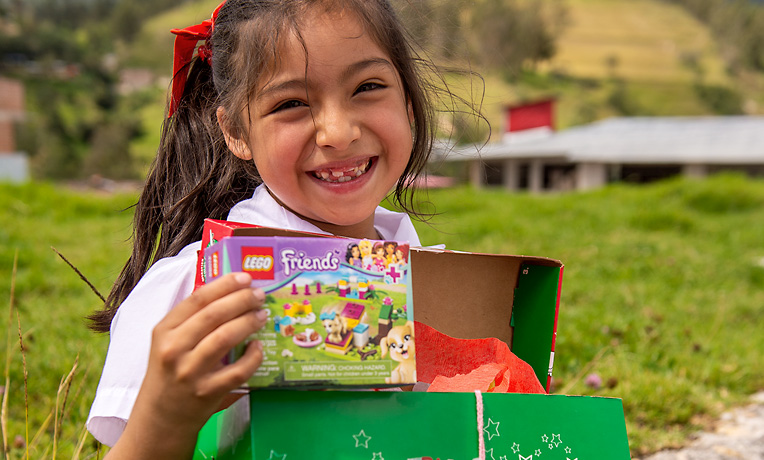 Operation Christmas Child
Through Operation Christmas Child, Samaritan's Purse is sharing the Good News of Jesus Christ with millions of boys and girls in more than 100 countries each year. Many of these children have never before received a present or heard the true meaning of Christmas—until they open a gift-filled shoebox from a person like you. Some people are not able to give the $10 per shoebox we request for shipping and related costs. By adopting a shoebox, you can partner with them to deliver the Gospel and help "bring salvation to the ends of the earth" (Acts 13:47, ESV).
---
Operation Christmas Child 013477
Adopt a Shoebox: $10 | Adopt a Carton of 15 Boxes: $150