Samaritan's Purse President Franklin Graham joined pastors in Belize to distribute Operation Christmas Child shoebox gifts to children in need
What was Christmas Day like for children who live on the poor side of Caye Caulker, a Caribbean island just off the coast of Belize?
"Just another day," said Pastor Oscar Delgado. "They didn't get Christmas gifts. Their families couldn't afford them."
Things changed on December 28, as Samaritan's Purse President Franklin Graham and church leaders like Pastor Delgado handed out thousands of Operation Christmas Child shoebox gifts to boys and girls from impoverished families in Belize, the smallest country in Central America. Greta Van Susteren, host of "On the Record" on the Fox News Channel, and her husband John Coale joined Graham in the distributions.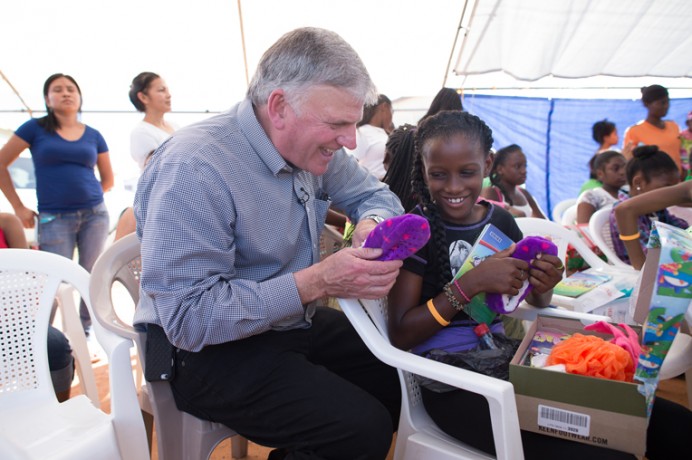 Belize is among the 108 countries that will receive more than 11.2 million Operation Christmas Child shoeboxes. About 19,000 of the boxes will be sent to Belize this year.
"We want every child to know they are precious and loved by God, and these shoeboxes help accomplish that," Graham posted on his public figure Facebook page. "There were a whole lot of smiles and laughter from these children who live in a very poor area of the country. … Thanks to all who are such an important part of this special project by packing shoeboxes and praying—we couldn't do it without you!"
Starting on Monday, distribution teams carrying cartons of shoebox gifts began fanning out from Belize City, the nation's largest town. Forty-passenger water taxis carried some across the choppy Caribbean to places like Caye Caulker, where tourists flock to the ocean side while the workers who cater to them raise their families in swampy settlements.
Among the first sites Graham handed out shoebox gifts was Calvary Baptist Church in Belize City, which was built on a corner where Muslims once worshipped and is thriving in the middle of a neighborhood plagued by gangs.
"Do you know what Christmas is all about?" Graham asked about 200 children who gathered at Calvary. "It's about God's love for you!
"The Bible says that God so loves you that He gave His only begotten Son, that whosoever believes in Him should not perish but have everlasting life. Christmas is about God giving His Son. He gave His Son Jesus Christ for you."
Pastor Samuel Brown was delighted to see a number of children who do not usually attend his church. When the Gospel was shared, many of them stood up and prayed to repent of their sins and receive Jesus Christ as their Savior.
Please continue to pray for the children of Belize to hear and respond to the Gospel.
See more from the Belize distributions below.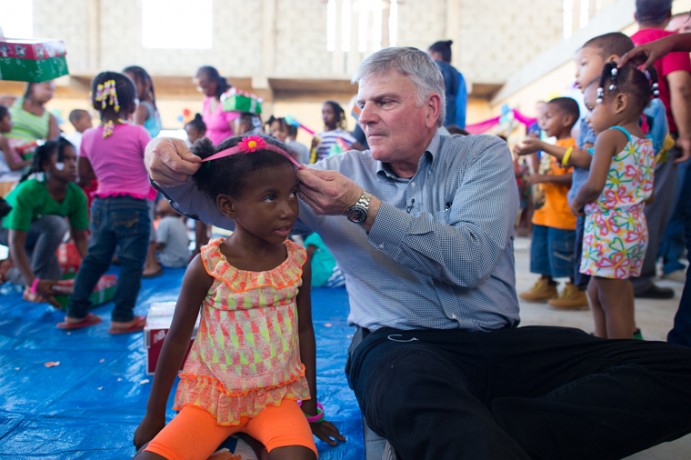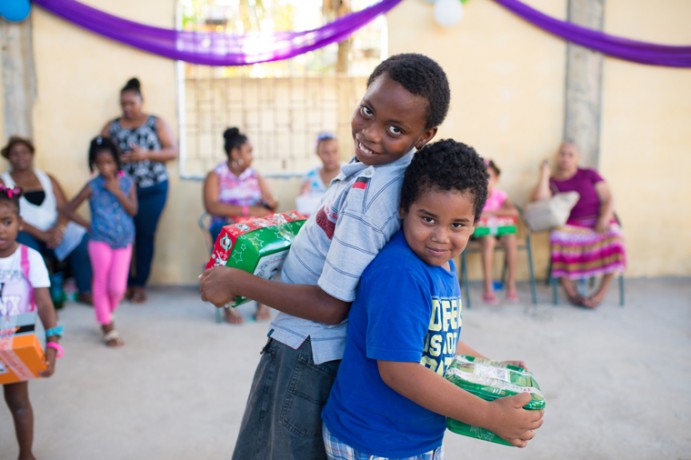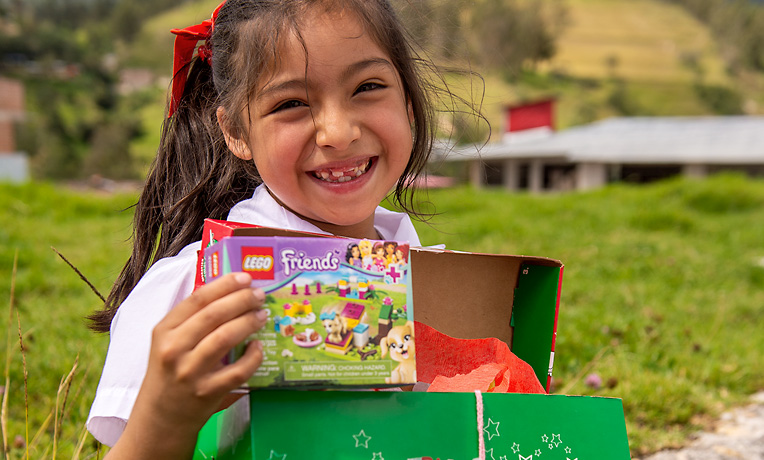 Operation Christmas Child
Through Operation Christmas Child, Samaritan's Purse is sharing the Good News of Jesus Christ with millions of boys and girls in more than 100 countries each year. Many of these children have never before received a present or heard the true meaning of Christmas—until they open a gift-filled shoebox from a person like you. Some people are not able to give the $10 per shoebox we request for shipping and related costs. By adopting a shoebox, you can partner with them to deliver the Gospel and help "bring salvation to the ends of the earth" (Acts 13:47, ESV).
---
Operation Christmas Child 013477
Adopt a Shoebox: $10 | Adopt a Carton of 15 Boxes: $150