North Carolina Governor Pat McCrory and Samaritan's Purse President Franklin Graham addressed processing center volunteers in Charlotte
The buzz of our Charlotte processing center quieted for just a little while on Tuesday as Samaritan's Purse President Franklin Graham, N.C. Governor Pat McCrory, and others encouraged Operation Christmas Child volunteers, staff, and guests.
"I want to thank all of our volunteers—we couldn't do this without you," Graham said. "I want every child to know that there is a God. I want every child in this world to know His Son, Jesus Christ.
"This is what Christmas is all about. I want Jesus Christ to be at the center of Operation Christmas Child. We don't stop by just giving the box—we have a discipleship program that we offer to the churches that help us do the distribution in every country. It's called The Greatest Journey."
The Greatest Journey is a 12-lesson course that teaches children how to receive Jesus as their Savior, follow Him each day, and share their faith with their family and friends.
Governor McCrory surveyed those gathered and said, "What I see is the best of North Carolina here. What I see is the best of the USA out here. It's the best of Christmas. It's all about giving, it's all about accepting grace and understanding grace. To see thousands of volunteers who are wanting to help kids throughout the world means so much to me. We've been here many times together, and I just want to continue to say thank you."

The Governor packed a shoebox, wrapped in blue, with a Carolina Panthers hat and football signed by himself and Franklin Graham.
Izabella McMillon served as emcee for the event. She received a shoebox in Communist Romania at the age of 13 and today is active in promoting the work of Operation Christmas Child across the United States. One of the people she's recruited to pack shoeboxes—her 6-year-old son Kaleb—was present to share why he fills shoeboxes with toys and school supplies for children worldwide.
"In 2010 I had the privilege with my husband and son, who was only 13 months old, to go back to Romania and distribute shoeboxes. While I know very well what it is like to receive a shoebox, I never expected what it was like to give one. What I have learned is that it is so much better to give than receive," she told the crowd. "I hope you consider yourself blessed that we can be on the giving end of these boxes and we can be those who bless these children who are in need of hope, love, and most of all, Jesus Christ."
To read Izabella's first hand-account of receiving her shoebox, or to watch Kaleb demonstrate how to pack a shoebox, click here.
Jordyn McNeal, a 9-year-old who rallied friends and churches to pack more than 5,000 shoeboxes in 2015, also addressed the crowd.
"I believe that little kids can dream really big because God is amazing and He is really big," she said. "There isn't anything we don't do if we trust in Him."
To read more of Jordyn's story, click here.
Last week, Graham, McNeal, and the McMillons all spoke at similar events at Operation Christmas Child Processing Centers in Dallas, Denver, and Orange County, California.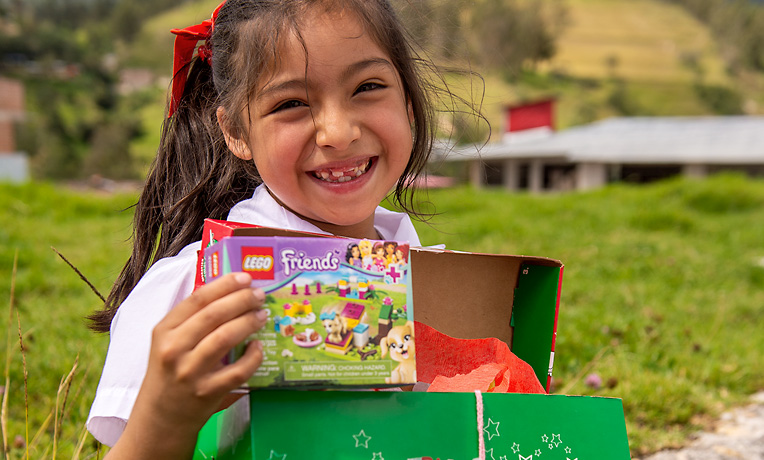 Operation Christmas Child
Through Operation Christmas Child, Samaritan's Purse is sharing the Good News of Jesus Christ with millions of boys and girls in more than 100 countries each year. Many of these children have never before received a present or heard the true meaning of Christmas—until they open a gift-filled shoebox from a person like you. Some people are not able to give the $10 per shoebox we request for shipping and related costs. By adopting a shoebox, you can partner with them to deliver the Gospel and help "bring salvation to the ends of the earth" (Acts 13:47, ESV).
---
Operation Christmas Child 013477
Adopt a Shoebox: $10 | Adopt a Carton of 15 Boxes: $150