Learn what churches and individuals are doing amid the coronavirus crisis to facilitate shoebox packing and ultimately bless children in need around the world.
Operation Christmas Child
013477
A global pandemic isn't stopping Operation Christmas Child from delivering gift-filled shoeboxes to boys and girls in the far corners of the world. Children need hope now more than ever in such uncertain times, and these tangible expressions of God's love can be a great encouragement. Most important, children need to hear the Good News of Jesus Christ!
So, churches and individuals across the U.S. are prayerfully brainstorming ways they can pack shoeboxes with toys, school supplies, and hygiene items, even if the process looks a bit different than it has in other years. Perhaps you'll glean ideas from what others are doing and try it in your area, too!
1. Prepped and Ready to Pack
Calvary Salt Lake, a church of 2,200 in Salt Lake City, Utah, collects Operation Christmas Child shoebox filler items from local businesses and individuals year-round. They store these gifts-in-kind—ranging from shoes and clothes to flashlights and school supplies—in two shipping containers in their parking lot until it's time to pack them into shoeboxes for their preferred recipients, boys and girls ages 10 to 14.
This year, the church is preparing shoebox bundles—complete with empty boxes, all the quality gifts necessary to pack them full, and instructions—that can be picked up at designated times in October by small groups of all kinds. Families, neighborhoods, and groups of coworkers and friends are all welcome to pick up a pack to assemble with proper social distancing and deliver back to the church in time for National Collection Week, Nov. 16-23.
Alison Long, the Operation Christmas Child project leader for Calvary Salt Lake, has been involved in this ministry since 1996. She encourages church members to use the project as an outreach to their friends who may not know the Lord. She asks people to show an Operation Christmas Child video so packers understand what the project is all about and also to "write a letter, take a picture, and put it in the box" to encourage the child.
"We're really trying to get people to see that God is calling us to be light in the darkness. Operation Christmas Child is a project God uses to bring kids to Jesus. It's evangelism, discipleship and multiplication," Alison said. "We need to be bold, we need to be brave, and we need to be a light. Operation Christmas Child gives people something to focus on that's good."
2. Just Family: Social Distancing at Church and Home
Since mid-March, Milan Baptist Church of Maynardville, Tennessee, has met for Sunday worship in their parking lot. The audio for their service airs over an FM radio station in their area so their congregation and other townspeople can tune in from their cars. Yet even though they are unable to gather in their sanctuary, they are opening their building up for shoebox packing.
The church is filling their fellowship hall with various items members have collected throughout the year, and inviting individual families to sign up for a specific time to come and pack shoeboxes. Parents and their children will fill shoeboxes with the stuffed animals, school supplies, and bars of soap and washcloths provided as well as visit the letter-writing station and photo booth to be sure to include these personal elements the child will love. Volunteers at the church plan to disinfect each of these stations in between each family.
"When they walk through that door, I want them to focus on nothing but that precious child," said Amie Winstead who has served as project leader for the church since it began partnering with Operation Christmas Child more than 11 years ago.
Last year, Milan Baptist aimed to pack 1,100 shoebox gifts and ended up filling 1,379. After praying about it, two people in the church independently felt God was leading them to pack 1,500 shoeboxes in 2020. Little did they realize what challenges would come. But Amie said, "God knew what 2020 was going to look like when He gave us that goal."
Prayer has shaped every part of how they're packing shoeboxes this year. "Everything we do with Operation Christmas Child, we meet it with prayer," Amie said. The church intercedes for each shoebox recipient, their country, the volunteer Operation Christmas Child leaders in that nation, the local churches that distribute the boxes, and even logistics such as the journey the shoebox takes to the various drop-off locations before heading overseas.
Susan Seibert of Wylie, Texas, takes an approach similar to Milan Baptist's by inviting individual families into her home to pack shoeboxes. A consumer-savvy year-round shopper, Susan gathers items for shoeboxes at holiday sales throughout the year and annually gathers friends to pack them into boxes for children in need. This year, however, she's found an alternative to rallying a large group to complete the task.
"Here's what I decided to do in order to pack slowly over a long period of time during the pandemic. I will invite families I know to come and pack—one family at a time on a given day. They will use masks and gloves, and then we will Lysol the entire room and start over another day."
She is passionate about packing shoeboxes even in this unusual year: "Our whole world is going through trying times right now, and I just think we need to get the Gospel out."
3. Down to Business
Katie Engjurjan, a chiropractor from West Chester, Ohio, plans to encourage shoebox packing at her office. Last year, she set up a Christmas tree in her lobby and patients dropped off items for shoeboxes, or picked up boxes to take home and fill on their own.
"We will have to modify this year," Katie said. "We will probably have to keep donations behind plexiglass." She starts the project in full force in October, but until then, Katie is talking up Operation Christmas Child with patients and is already receiving donations, including hand-sewn crossbody bags, school supplies, and toothbrushes to include in shoebox gifts.
4. Home Alone
Even if you're primarily remaining in your home, there are creative ways you can pack shoebox gifts. You can shop online yourself or create a shoebox item wish list on Amazon or other retail site to share with friends and family.
"I have received so many items this year from my online wish list," said Tammy Hone of Flintville, Tennessee. "We have a ladies' retreat this fall and Operation Christmas Child is our mission project so I was able to share the link with them as well. I can't wait to see how many more shoeboxes we get to pack this year as a result of my wish list."
Or if online shopping isn't your forte, Amie Winstead recommends: "Send a neighbor out with a list of things that you need." She's inviting church members who are stuck at home to fill pencil pouches with writing utensils to be ready to be packed into shoebox gifts by the families at their church. Others are knitting hats to pack in shoeboxes.
Crystal Daggett of Topeka, Kansas, wrote on Operation Christmas Child's Facebook page about her journey of packing shoeboxes at home:
"Each year after National Collection week, I begin praying for the following year. This year it was clear to pack 2,020 shoeboxes. Then the virus hit: no job, no church in person, no collection from church members, weakened immune system."
Crystal wondered if the goal was even reasonable, but she sensed that "with God all things are possible" (Matthew 19:26).
She continued in her post: "From using curbside pick-up, to taking advantage of stores going out of business, I have been using this time of isolation to party with God all year…which means 2,020 children will have the opportunity to hear the Gospel after a hard year of this virus."
5. Build Online
Both Alison in Utah and Amie in Tennessee are encouraging their churches to Build a Shoebox Online this year. In a few clicks from a computer or handheld device, the page allows people to choose items to include in a shoebox with a letter and photo. Samaritan's Purse will pack and ship the shoebox for a donation of $25.
"If they're [online] junkies, we'll show them how to be 'Build a Box' junkies," Alison said. She used a new feature on this site to create a goal page for Calvary Salt Lake. "It's simple to do," she said. Just by uploading an image or logo and an encouraging message, anyone can receive a link to their own custom webpage to share on social media.
"This is a great opportunity—especially for those who are not getting out because of the pandemic or those who like to shop online," Alison said. She plans to encourage members of her church to use Build a Shoebox Online for Christmas gifts—filling one on behalf of someone else or sending the link to friends and family when they ask for gift ideas. Alison finds the price makes it perfect for this use.
So, whether you pack a traditional shoebox, build one online, or give to the project in some way, it all gives a child the opportunity to experience God's Greatest Gift—Jesus Christ.
"It's the body of Christ working together to share the Gospel," Alison said.
Amie said, "We know that the world needs Jesus more than everything. Don't let what's happening with COVID-19 in 2020 cause you to neglect that calling. Just pack a shoebox!"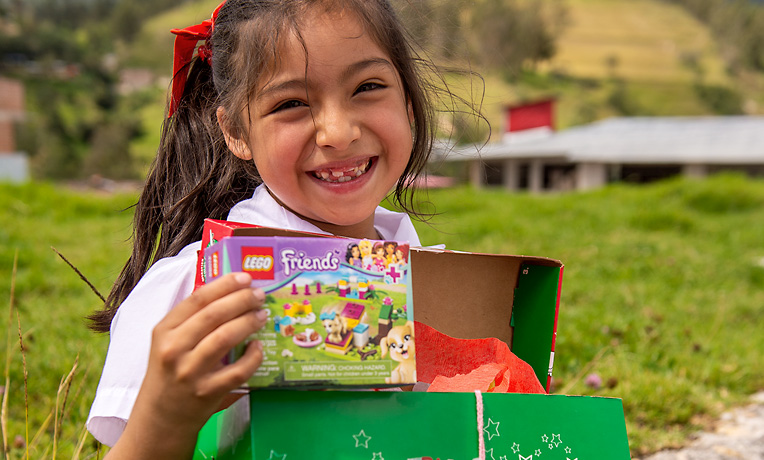 Operation Christmas Child
Through Operation Christmas Child, Samaritan's Purse is sharing the Good News of Jesus Christ with millions of boys and girls in more than 100 countries each year. Many of these children have never before received a present or heard the true meaning of Christmas—until they open a gift-filled shoebox from a person like you. Some people are not able to give the $10 per shoebox we request for shipping and related costs. By adopting a shoebox, you can partner with them to deliver the Gospel and help "bring salvation to the ends of the earth" (Acts 13:47, ESV).
---
Operation Christmas Child 013477
Adopt a Shoebox: $10 | Adopt a Carton of 15 Boxes: $150