He distributed Operation Christmas Child shoeboxes to children at a local school before preaching the Gospel to an overflowing crowd as part of the Marianas Festival of Hope.
Operation Christmas Child
013477
Feb. 22-23 UPDATE
Samaritan's Purse President Franklin Graham and his wife Jane, along with musical artist Michael W. Smith, traveled to Guam on Saturday, Feb. 22, to help hand out gift-filled Operation Christmas Child shoeboxes at Life in the Son Christian Fellowship in Tamuning. The day before the trio assisted in distributing shoeboxes on nearby Saipan.
"There is so much joy and happiness," Franklin Graham said, as the 90 children ripped open their boxes to discover stuffed animals, soccer balls, dolls, and other fun toys. But the most important aspect of the distribution, Graham added, was that "it gave us an opportunity to present the Gospel." And not only to the kids, many of whom are unchurched, but to their parents who were also in attendance.
"I've never experienced anything like this," said Marco Caser, who heads up, along with his wife Nicole, the children's ministry at Life in the Son church.
"I'm super thankful for the people behind Operation Christmas Child and The Greatest Journey for allowing our island to have these resources. It gives us confidence to know that these kids are really going to be impacted by the Gospel."
Graham proclaimed the Good News of Jesus Christ at the Hope for Guåhan Festival on the island on Sunday, Feb. 23. Guam is a U.S. island territory in Micronesia.
—
Feb. 21
Franklin and Jane Austin Graham, joined by Michael W. Smith, were on Saipan on Friday, Feb. 21, to hand out gift-filled Operation Christmas Child shoeboxes to 125 enthusiastic kids at Grace Christian Academy in Garapan.
Although Grace Academy is a Christian school, most of its 294 students are from unbelieving homes and don't know Christ, said principal Beth Nunez.
"Our students are from South Korea, Japan, China, the Philippines, and various island nations," she said. "When you're giving out shoeboxes and teaching The Greatest Journey here, you are ministering to Asia. I want people back in the States to know that what they are giving to, whether financially to Samaritan's Purse or by packing a shoebox, is really touching people's lives and demonstrating God's love to them. It's powerful to see."
Following the shoebox distribution, Franklin Graham dropped in on a Greatest Journey class being taught at the school and was warmly welcomed by the two dozen kids in attendance. The Greatest Journey is our discipleship program for shoebox recipients.
He encouraged them to memorize Bible passages and learn how to share their faith with others. "I pray that God will use each one of you to be a preacher and a soul winner who tells others about what God has done for you," he told them.
"I pray that God will use each one of you to be a preacher and a soul winner…"—Franklin Graham
Later that evening, Graham presented the Good News of Jesus Christ to an overflowing crowd at Saipan's American Memorial Park during the Marianas Festival of Hope.
Reaching the Pacific for Christ
Saipan is the largest of the Northern Mariana Islands, a United States Commonwealth about 6,000 miles off the West Coast. Operation Christmas Child distributions began early last year on Saipan as part of a five-year initiative to give shoeboxes to every boy and girl on 1,000 Pacific islands—more than half a million children. The island was the first of this campaign to receive shoeboxes and host The Greatest Journey.
Friday's event was the final distribution on Saipan. More than 10,000 boxes had previously been dispersed there to children in need following the devastation caused by Super Typhoon Yutu in October 2018 that destroyed thousands of homes and left people without shelter, food, and clean water.
"This is my first visit to Saipan," said Michael W. Smith. "It's awesome to be here and meet these beautiful people. We in America [in the States] are spoiled. We lose sight of the way most of the world lives. Hopefully, this will show people the need there is around the world for kids to hear the Gospel and how a simple shoebox can change somebody's life."
Saipan holds a special place in the lives of Franklin and Jane Graham. Jane's father, Edward "Ned" Cunningham, was one of the courageous U.S. Marines who stormed the shores of the Japanese-occupied island in 1944 and helped secure the strategically significant location so the U.S. could establish an air base and launch long-range B-29 bombers. During the invasion, Cunningham was shot in the hip by a sniper. The bullet shattered his leg. He was awarded the Purple Heart.
"Having my father-in-law serve here means a lot to me," Graham said. "He shed his blood on this island. If his generation could go to the Pacific, crawl on their bellies fighting hand-to-hand combat to defeat the Japanese, then we can come here with Operation Christmas Child and go island to island to island to present the Gospel of Jesus Christ. And that's what we're going to do."
Please pray for Saipan and for children and families in the Pacific. To date, more than 65,000 children have received shoeboxes as part of the Pacific Island initiative and 20,000 of them have graduated from The Greatest Journey. But hundreds of thousands more still need to be reached with the Gospel of Jesus Christ.
---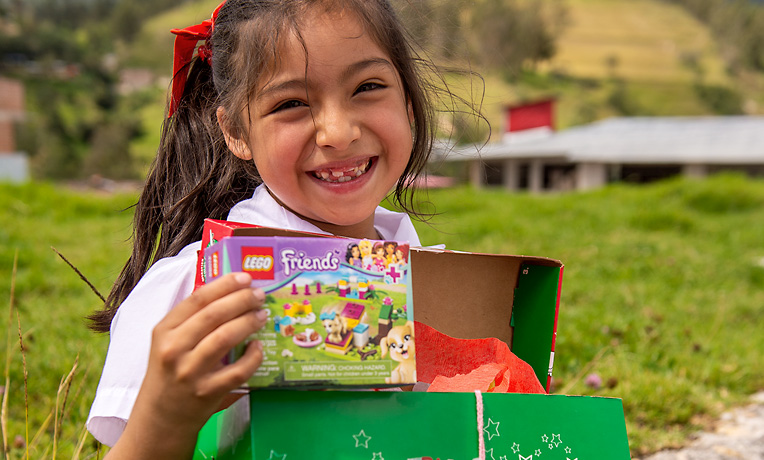 Operation Christmas Child
Through Operation Christmas Child, Samaritan's Purse is sharing the Good News of Jesus Christ with millions of boys and girls in more than 100 countries each year. Many of these children have never before received a present or heard the true meaning of Christmas—until they open a gift-filled shoebox from a person like you. Some people are not able to give the $10 per shoebox we request for shipping and related costs. By adopting a shoebox, you can partner with them to deliver the Gospel and help "bring salvation to the ends of the earth" (Acts 13:47, ESV).
---
Operation Christmas Child 013477
Adopt a Shoebox: $10 | Adopt a Carton of 15 Boxes: $150