This year marks the beginning of Operation Christmas Child in the Southeast Asian nation of Myanmar
Samaritan's Purse President Franklin Graham delivered Operation Christmas Child shoeboxes to children in Yangon, Myanmar, on November 19. He was in the country for a multiday evangelistic festival.
This year kicks off the work of Operation Christmas Child in Myanmar. Good news and great joy will be brought to more than 16,000 children through the outreach of 400 local churches.
"Christmas is all about giving. Christmas is about God giving us Jesus Christ His Son," Graham said to the 200 children who participated in Saturday's Operation Christmas Child outreach event. "We've got a gift for you to celebrate God's gift."
Pack a Shoebox
At the distribution, Graham shared the Gospel and encouraged the children, who are living in one of Asia's poorest countries. More than 26 percent of Myanmar's population lives in poverty. Agricultural work is the dominant source of income yet its unpredictable, unreliable nature leaves many families struggling to survive.
This Southeast Asian nation has also known its share of natural disasters. Last year, when the country suffered catastrophic flooding that critically affected 1.6 million people, Samaritan's Purse worked through church partners to provide emergency aid. We responded again this year when monsoon season left areas of the country underwater.
Operation Christmas Child is poised to communicate God's love to children throughout Myanmar, many of whom have never before had an opportunity to hear the Gospel of Jesus Christ.
"A shoebox is a tool for evangelism," Graham said. "The box is an opportunity to share the Gospel."
Graham was joined at the distribution by Greta Van Susteren, a steadfast friend of the ministry and one of America's top news commentators; and by Skip Heitzig, a Samaritan's Purse board member and senior pastor of Calvary of Albuquerque, New Mexico. The outreach event included children from surrounding communities as well as youngsters from a local orphanage.
Among the shoebox recipients was War War. She only sees her relatives a few times each year, and although she misses them, she said children at the orphanage have become like family. War War wants to attend college and become an English translator.
The Least of These
About 160 children from another orphanage received shoebox gifts during an outreach event with the Tommy Coomes Band on November 18. The band is in Myanmar, formerly known as Burma, to lead worship for the Franklin Graham Festival.
For a little while, children at the distribution were just like any other group of children as they giggled, chatted, and showed off their favorite gifts. Yadama, one shoebox recipient, smiled and held her stuffed animal close to her chest. It was a moment of pure delight for a child who has already suffered so much.
Yadama's father died a few years ago of cancer and sometimes her pain is still raw. "I miss him," she said quietly.
When her father died Yadama's mother sent Yadama and her younger sister to an orphanage because although she worked very hard she couldn't afford to care for them.
"My mother had to walk far away to make a living," Yadama said. Her mother works a dangerous job in the Myanmar jade mines.
"This is the first time many have received a gift," said Ni Sat Tin Htoo, who runs the orphanage with her husband. She prays that through Operation Christmas Child the children will know "how much people value them" and they will come to know Jesus.
Akham is 13 years old and like Yadama she rarely receives gifts. The teenager was excited to receive her shoebox and didn't hesitate when asked her favorite item: a simple, soft, black and red headband—her first.
Akham has lived at the orphanage eight years. "My mother died when I was very young; I don't remember her. My father works hard but couldn't afford to send me to school. My father sent me here," Akham said.
Even with eight years gone by Akham still thinks of home. "I miss friends from my village but I'm trying to make myself happy with new friends."
Akham isn't letting life's struggles hold her back. She's already decided she wants to become an English translator.
A Christian, she also wants to tell people about Jesus. "I will go back to my village and share God's Good News," she said.
Faces to Remember
Marsha Skidmore, a member of The Tommy Coomes Band, has packed shoebox gifts for many years with her children and family.
"It's such a joy to pray over the box and to know you're praying over a specific child who will receive it," she said.
This week was special for Skidmore because she met that specific child when she hand-delivered a box packed by her family to a 6-year-old girl sitting near the front of the stage. Eh came to the orphanage when she was about two years old because her mother is so poor.
Eh carefully looked through the items in her box, being sure to gently put each one back in its place. She was quiet and a little shy until she showed Skidmore her favorite gifts: stickers, a stuffed animal, and a jump rope. Eh plays jump rope at the orphanage but she's never had one of her own.
"Today is a marker in my life," Skidmore said. "These moments will go down as my fondest memories of anything I've ever gotten to do in my life."
Paving the Way to Discipleship
Myanmar is a predominantly Buddhist country, and it's not just a religion but a way of life, explained Charity Nyunt, Operation Christmas Child National Leadership Team coordinator in Myanmar. Going to the temple and participating in the many Buddhist festivals throughout the year is expected.
"It is difficult for a Buddhist-background believer. They have pressure from their family, religious leaders, and community," Nyunt said.
Nyunt is passionate about sharing the Gospel among children because she wants children to learn while they are still young how to stand firm in their faith. "Churches are eager to share the Gospel, but discipleship is weak," she said. "We want to empower the churches in discipleship."
Nyunt and the volunteer National Leadership Team are excited to start The Greatest Journey, a 12-lesson discipleship program for shoebox recipients. So far, more than 250 ministry partners have been trained in partnership with local churches. These partners will teach The Greatest Journey, beginning next year, and help lead future shoebox gift distributions throughout Myanmar.
"Through Operation Christmas Child we can plant more seeds [of the Gospel] in children's hearts," Nyunt said. "Children will experience the love of God, and not only them, but their friends, family, and community."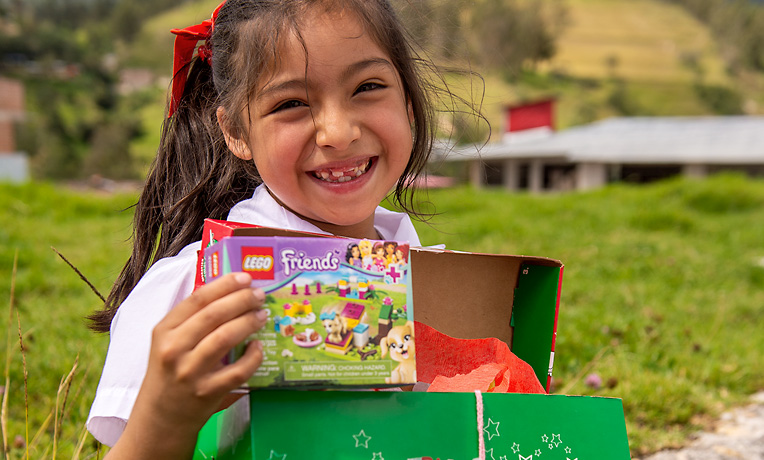 Operation Christmas Child
Through Operation Christmas Child, Samaritan's Purse is sharing the Good News of Jesus Christ with millions of boys and girls in more than 100 countries each year. Many of these children have never before received a present or heard the true meaning of Christmas—until they open a gift-filled shoebox from a person like you. Some people are not able to give the $10 per shoebox we request for shipping and related costs. By adopting a shoebox, you can partner with them to deliver the Gospel and help "bring salvation to the ends of the earth" (Acts 13:47, ESV).
---
Operation Christmas Child 013477
Adopt a Shoebox: $10 | Adopt a Carton of 15 Boxes: $150