God continues to use Samaritan's Purse to open doors for the Gospel after nearly three decades of work in the Eastern European country.
Operation Christmas Child
013477
For the first time in many years, Ukrainian Elizabeth Groff returned to her home country, joining Samaritan's Purse President Franklin Graham on Jan. 25 to celebrate and deliver the 200 millionth Operation Christmas Child shoebox gift to the war-torn country.
The milestone event, marking 30 years since the Samaritan's Purse project started in 1993, also marks nearly one year since the invasion of Ukraine last winter. And it's been nearly a year since Samaritan's Purse responded with relief, sending more than 40 DC-8 airlifts to provide the devastated country with emergency food, medical care, and relief supplies.
Last week's DC-8 airlift carried more supplies and personnel to assist in our continued work in the country. And, in addition, the flight also carried dozens prayerfully-packed shoebox gifts, including the 200 millionth, which Groff was excited to deliver, herself, to a young girl in need.
She remembers receiving her own shoebox gift as a child during a time she described as "rock bottom."
"I was alone. I felt lost. That is where Jesus met me. He didn't leave me there," she said. "He showed me that He loved and cared for me through a simple gift—through a shoebox. These children are receiving the news of the Greatest Gift of All, the eternal love and hope of Jesus. I think about when I received my box and how it changed my life. That's my prayer for these children. I want them to know Jesus and remember this special day for the rest of their lives."
Graham and Groff, joined by news anchor Greta Van Susteren, greeted the 75 children gathered in one of our many Ukrainian partner churches. Franklin was able to remind the children of God's love for them.
"Did you know that the Bible tells us that God loves us, and that everyone is special to Him?" Graham told the children. "God knows your name. He knows how many hairs that you have on your head. He knows everything about your life—and He loves you! And the Bible tells us that God loves us so much that He sent His Son from Heaven to this earth to save us."
Local teachers and pastors also walked the children through the Gospel using The Greatest Gift booklet, introducing them to Jesus Christ. Then Van Susteren counted down–in Ukrainian.
Odyn! Dva! Try! (One! Two! Three!)
As the children began opening their boxes, Groff walked the milestone 200 millionth shoebox to a 8-year-old girl named Natalya, an orphan. That same shoebox had traveled across the United States with Groff who made stops at our ministry centers and at local churches to place specially selected items inside.
"This gift is for you from God," Groff told the little girl, whose eyes brightened with surprise at the special attention. She immediately zeroed in on the bright-yellow wind-up flashlight included among the items. "He has picked everything in it especially for you."
Samaritan's Purse will distribute more than 400,000 more Operation Christmas Child shoebox gifts throughout Ukraine this year. This year also, at least 120,000 Ukrainian children will participate in The Greatest Journey, our 12-lesson discipleship program for shoebox recipients.
Graham said that the ongoing relief efforts of Samaritan's Purse in the war-torn nation and our vibrant ministry through Operation Christmas Child are a testament to God's power at work through many faithful churches in Ukraine and surrounding countries.
"The need here is incredible. We're here to deliver these shoeboxes but also to meet with our church partners," Graham said. "The war has destroyed so much of this country but the churches see this as an opportunity to reach out and to help their neighbors and do it in Jesus' Name. We have several thousand churches in Ukraine that we've been working with for 30 years. I can't control the politics but I can control who I help, and we help whoever God puts in front of us. The only hope for this world is Jesus Christ."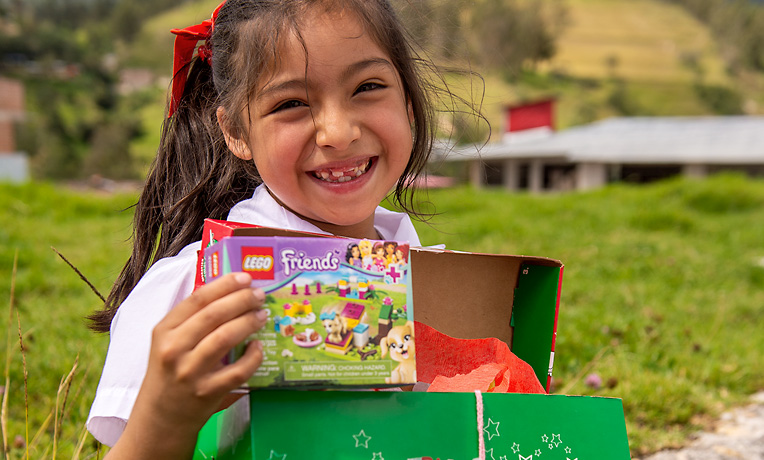 Operation Christmas Child
Through Operation Christmas Child, Samaritan's Purse is sharing the Good News of Jesus Christ with millions of boys and girls in more than 100 countries each year. Many of these children have never before received a present or heard the true meaning of Christmas—until they open a gift-filled shoebox from a person like you. Some people are not able to give the $10 per shoebox we request for shipping and related costs. By adopting a shoebox, you can partner with them to deliver the Gospel and help "bring salvation to the ends of the earth" (Acts 13:47, ESV).
---
Operation Christmas Child 013477
Adopt a Shoebox: $10 | Adopt a Carton of 15 Boxes: $150