Eleven churches of diverse backgrounds from in and around Robert, Louisiana, gathered to teach their kids about how shoeboxes full of gifts can open doors for the Gospel.
Operation Christmas Child
013477
It was an extraordinary September Saturday for children and their families on New Orleans' North Shore of Lake Pontchartrain. Around 100 participants from 11 churches in the area gathered at Crossgate Church in Robert for the first annual Operation Christmas Child Kids' Summit. Organized by volunteer area coordinator Beth Hiller of River Fellowship in nearby Hammond, the event offered kids the opportunity to learn about shoebox packing and some of the countries where they will be delivered.
Beth's first prayer for the event was that it would show kids that they can be missionaries even at a young age. In addition, she said, "My other prayer is that our community comes together—different churches, different races, all together."
As children and their parents gathered in Crossgate's sanctuary, local church planter Lonnie Tucker kicked off the event with a rousing cheer for Jesus that drew an enthusiastic response from the crowd. Next, he showed a couple of Operation Christmas Child videos before releasing the participants to check out activity booths set up in the gym that featured shoebox receiving areas including Africa, El Salvador, Mexico, and the Philippines.
Packing a Shoebox for the Very First Time
At the event, Xavier, 11, learned for the first time how to go about packing a shoebox gift. He then said of his opportunity to bless a child around the world, "Even if it is something small, it can mean a lot."
His relative Patricia, who brought him to the event, said she hopes Xavier will "learn to take value in everything he has and share with someone else."
A young man named Soljah also packed his first shoebox recently. He was moved to learn at the Africa booth that children there have gone to war and lost their parents. "Hearing it made me sad," he said. "But it was good to learn about it. I hope [my shoebox gift] will bring their hopes up and make their day."
The G.I.G.G.L.E.S. (Girls in God's Grace Love Eternal Salvation) group from Silver Springs Baptist Church in Osyka, Mississippi, organized a station to teach people how to transform old T-shirts into jump ropes for shoebox gifts. Nearby, a booth offered information about The Greatest Journey, the follow-up discipleship program for shoebox recipients.
Experienced Shoebox Packers Teach Others
Tucked between displays about Africa and the Philippines, siblings Jordan and Paxton, ages 13 and 11 respectively, hosted a table to show other kids how their family promotes shoebox packing in their community. Their hometown of Husser, Louisiana, holds an annual 15-mile-plus yard sale that draws people from as far away as Alabama and Arkansas. The brother-sister duo, together with their mother Barbara Ockman, set up a table each year at the popular sale to tell people about Samaritan's Purse. In addition to giving away free Operation Christmas Child materials, they also sell crafts Jordan creates to raise money for shoebox items. Since 2012, the Ockman family has packed nearly 500 shoeboxes.
Jackson, 13, and his mother Kathryn Sober, of Covington, Louisiana, also encouraged children and their families to get involved. Kathryn showed Jackson an Operation Christmas Child video when he was 4 and in the years since then God has motivated him to pack 4,000 gift-filled shoeboxes.
But despite the volume of boxes he's prepared, Jackson said, "It's quality over quantity." He and his mom make sure that each one of their shoeboxes is filled with durable items that will last. The Sobers collect toys, school supplies, and hygiene items all year round and offered many of them to the Kids' Summit participants to put into their own shoeboxes.
"It's quality over quantity."
A Celebration of the Opportunity to Give
After children and their families learned about Operation Christmas Child, the Kids' Summit culminated with a celebration in the Crossgate sanctuary. Doug Lee, a missionary to the Philippines, reminded the diverse group that "we're better together." Youth carrying international flags paraded down the aisles and more stories of the Samaritan's Purse project were presented via video.
Next, Izabella McMillon spoke about growing up in communist Romania where the name of Jesus could not be uttered in public. She and her brother discovered a Bible hidden beneath the floorboards of their home and became fascinated by the stories it contained. In time, they began attending an underground church, and Izabella asked the pastor to teach her how to pray. After he did, she prayed for snow. But none came. Discouraged, Izabella considered abandoning prayer altogether. But then she received an Operation Christmas Child shoebox. Inside, was a snow globe!* God used it to reassure her of His intimate care for the details of her life. The gift was "a splash of color in my black-and-white world," she said.
Izabella explained that gift-filled shoeboxes give children the opportunity to hear the Name of Jesus, in some cases, for the very first time. "When you see a shoebox," she said, "see the soul of a child."
Coming Together for the Gospel
Following Izabella's powerful testimony, children came forward and prayed over shoebox gifts that lined the front of the stage. Louis Husser, senior pastor of Crossgate, encouraged the kids and their families by saying that it will take all of eternity to meet the multitude of children who will receive the Lord as a result of the shoeboxes they packed.
In closing, five pastors from participating churches gathered on the platform to pray. In addition to those offered in English, Pastor Israel Gandara also offered a prayer in Spanish. He was excited to have 35 people from his Hispanic congregation, Iglesia Cristiana Emanuel, participate in Operation Christmas Child that afternoon. "We like to bless others as we've been blessed," he said. "The Bible says it's better to give than receive. It's a blessing that kids come to know Jesus Christ through the shoeboxes."
Such a diverse gathering of churches coming together for a common purpose like the Operation Christmas Child Kids' Summit would have once been unthinkable. But multiple pastors noted that they've been motivated to work shoulder-to-shoulder across racial and denominational lines more since Hurricane Katrina ravaged the area in 2005. As Pastor Randy Ray of River Fellowship said, "Katrina was a tragedy, but it really brought the churches together."
*Note: Snow globes are no longer allowed in shoebox gifts because, if broken, the liquid inside could damage the items in the box.
—
This article and video are part of our 2019 Operation Christmas Child Shoebox Roadshow. For more on this online cross-country journey, including additional short videos, please go to the Roadshow landing page.
Operation Christmas Child National Collection Week is November 18-25. Learn how to pack a shoebox gift!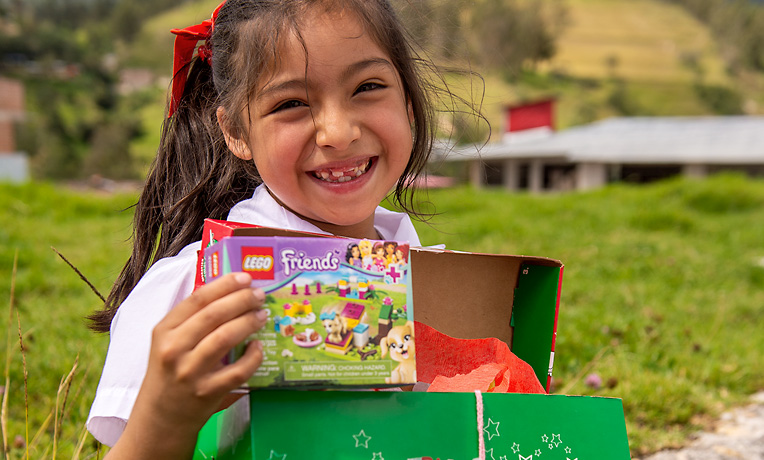 Operation Christmas Child
Through Operation Christmas Child, Samaritan's Purse is sharing the Good News of Jesus Christ with millions of boys and girls in more than 100 countries each year. Many of these children have never before received a present or heard the true meaning of Christmas—until they open a gift-filled shoebox from a person like you. Some people are not able to give the $10 per shoebox we request for shipping and related costs. By adopting a shoebox, you can partner with them to deliver the Gospel and help "bring salvation to the ends of the earth" (Acts 13:47, ESV).
---
Operation Christmas Child 013477
Adopt a Shoebox: $10 | Adopt a Carton of 15 Boxes: $150