Temo, now the discipleship coordinator for Operation Christmas Child in the Republic of Georgia, vividly remembers his first contact with the project.
Temo Galustian was 14 years old when his grandmother, Galina, invited him and his sister to her church for an Operation Christmas Child outreach event.
"It was a beautiful place, not because of the outstanding architecture or decorations, but because of the gift boxes," Temo said. "We heard about the loving God and received our shoeboxes with wonderful things and toys. We were filled with joy and happiness. In my box, there was a musical lamb with a sticker on the bottom with Operation Christmas Child logo and the lyrics: 'Jesus loves me this I know. For the Bible tells me so.'"
But soon Temo forgot about his lamb and the words of love he heard at his grandmother's church. He began to hang around with the wrong crowd, but he remembered the tune and words of "Jesus Loves Me."
"The song was following me all the time."
"I was an unbeliever," Temo explained, "but from time to time I would catch myself singing or whistling it. The song was following me all the time."
Operation Christmas Child
013477
Surrendering to the Lamb of God
Temo grew up and got married. His wife Nina became a Christian believer and began praying for her husband to come to know Jesus as well. She kept asking him to come hear a message about the Lamb of God who went to the Cross to die for his sins. On a Sunday during Advent 2010 in Tbilisi, Georgia, Temo finally agreed.
"I had no hope in life. I tried everything," Temo said. "I had nothing to do, so I said I'll go."
That particular Sunday, Nina prayed that her husband would come to know the hope that only the Lamb of God can give. The pastor preached on this hope and Temo gave his life to Jesus.
Since 2012, both Nina and Temo have distributed shoeboxes to needy children in their city through The Salvation Army where Temo currently serves as a lieutenant.
"When I saw the Operation Christmas Child logo when we distributed shoeboxes to poor children, it seemed to me that it was very, very much familiar," Temo said, "but I could not remember where I saw it before."
"It Was Like Electric Shock"
In 2017, Temo went into the bedroom of his young children Alexander and Anastasia to pray with them and tell them a bedtime story.
"Come on, kids, let's pick up these toys and put them into their box. Then I will tell you an interesting story," Temo said.
He kissed Alexander and Anastasia and the three of them began working to pick up the toys.
Stumbling upon the white lamb from his shoebox gift, Temo said, "Wait a minute! Where did you get this lamb?"
"Grandma Galina brought it the other day, Daddy," Alexander said.
Temo said, "It was like electric shock, and I suddenly remembered where I saw the Operation Christmas Child logo for the first time!"
That night in his children's bedroom, he wound up the lamb and the toy played "Jesus loves me, this I know…"
"Unbelievable," Temo said, "it still works!"
With tears running down his bearded cheeks, he sang along with the song for Alexander and Anastasia. The tune had reached another generation.
Editor's notes: Temo now serves as discipleship coordinator on Georgia's Operation Christmas Child National Leadership Team.
The idea for these toy lambs that play "Jesus Love Me" came to the late Ruth Bell Graham, wife of Dr. Billy Graham, after hearing about an orphaned Rwandan girl who sang the comforting tune. For more than two decades, thousands of these toy lambs have been distributed in Operation Christmas Child shoebox gifts.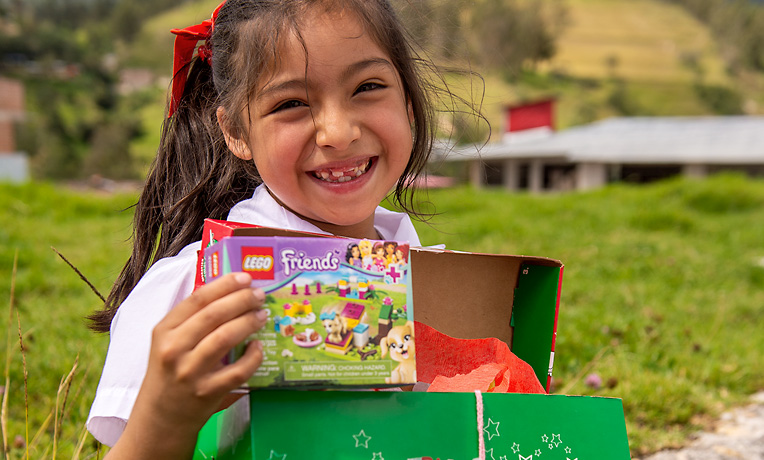 Operation Christmas Child
Through Operation Christmas Child, Samaritan's Purse is sharing the Good News of Jesus Christ with millions of boys and girls in more than 100 countries each year. Many of these children have never before received a present or heard the true meaning of Christmas—until they open a gift-filled shoebox from a person like you. Some people are not able to give the $9 per shoebox we request for shipping and related costs. By adopting a shoebox, you can partner with them to deliver the Gospel and help "bring salvation to the ends of the earth" (Acts 13:47, ESV).
---
Operation Christmas Child 013477
Adopt a Shoebox: $9 | Adopt a Carton of 15 Boxes: $135