Jeffery Zongizia is the Operation Christmas Child national discipleship coordinator in Papua New Guinea.
We had an Operation Christmas Child shoebox distribution in a community in Papua New Guinea's capital city. A little girl attended the event hoping to receive school supplies in her shoebox. She comes from a poor family and her parents cannot afford to buy her pens, pencils, or notebooks. The young girl had prayed and asked God for these items.
When she opened the box, she saw everything she had prayed for. She was in tears. "I really wanted these educational things for school," she said. "My parents don't have any money."
We shared the Gospel during the distribution and she was again moved to tears. We invited her to attend The Greatest Journey discipleship classes, and during this time she received Jesus Christ as her personal Savior. Her parents started coming to church and they also received Jesus.
During another distribution, children attended from two tribes that had been fighting for quite a while. Parents from these two tribes also attended. God really moved, because the outreach event brought reconciliation between the two tribes. The chiefs reconciled and said that they must raise their children in a godly manner. The children also participated in The Greatest Journey.
God used Operation Christmas Child to bring peace. These villages are no longer fighting against each other but are experiencing God's peace and love.
To God be the glory!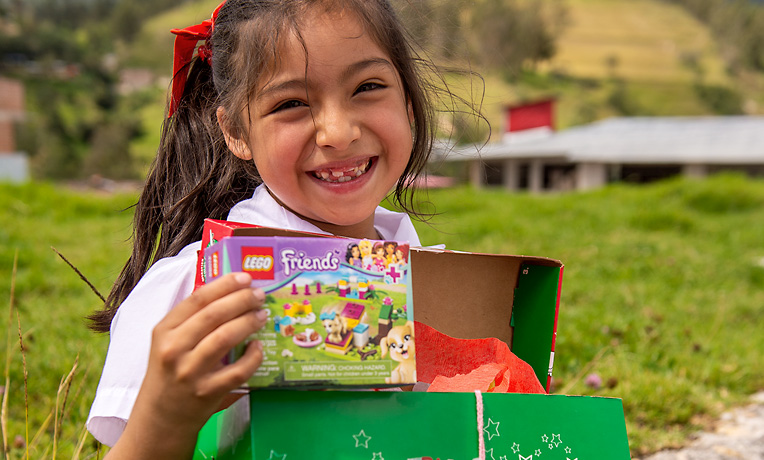 Operation Christmas Child
Through Operation Christmas Child, Samaritan's Purse is sharing the Good News of Jesus Christ with millions of boys and girls in more than 100 countries each year. Many of these children have never before received a present or heard the true meaning of Christmas—until they open a gift-filled shoebox from a person like you. Some people are not able to give the $9 per shoebox we request for shipping and related costs. By adopting a shoebox, you can partner with them to deliver the Gospel and help "bring salvation to the ends of the earth" (Acts 13:47, ESV).
---
Operation Christmas Child 013477
Adopt a Shoebox: $9 | Adopt a Carton of 15 Boxes: $135