Coins are changed into shoebox gifts by a school in Arkansas
The purchasing power of a quarter is limited. For 25 cents, you can buy a banana, a piece of candy, or a few minutes on a parking meter.
But when one quarter is added to another, and another, and then thousands more, they can bless children around the world.
Ozark Adventist School in Gentry, Arkansas, collects quarters for Operation Christmas Child, the Samaritan's Purse project that shares the good news of Jesus Christ by delivering gift-filled shoeboxes to children in need overseas.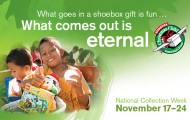 GET INVOLVED:
Join the kids at Ozark Adventist School and people across the country in packing shoebox gifts for children overseas.
The 90 students and staff members are encouraged to bring in a quarter a week throughout the school year. Their goal is to collect $1,000 to pack 100 shoeboxes. To encourage participation, school librarian Joyce Shedell dips into her own pocket and gives each student a quarter on his or her birthday.
The library sits in the center of the school and is the hub for Operation Christmas Child quarter collections. One child faithfully brings in a quarter every week when he returns his library books. Others bring their gifts in sporadically. But all enjoy the excitement of seeing the fund grow.
"We have a jar in the library that counts the money as you put it in so the kids like that idea," Shedell said. "It's another incentive."
The students do not limit themselves to spare change, though. One brother and sister decided to collect for Operation Christmas Child throughout the summer and brought in $48 each at the beginning of the school year. Another girl won the top prize for the school's accelerated reader program and donated her $50 winnings.
Every fall, the excitement over the quarter collection builds. Shedell begins to purchase items from the school's fundraising efforts and spreads them out on the library tables. Students come in and pack shoeboxes for a boy or girl in need. Teachers lead their students in writing letters to include with the boxes.
The process culminates at the school's fall festival.
One end of the gym is decorated for Operation Christmas Child while the rest of the room is filled with games hosted by the various grades. Students go from booth to booth for carnival-style activities.
After visiting all the booths, the children go to the Operation Christmas Child area where Shedell gives them the shoebox they packed the week before. Together with the school chaplain, the student prays over the box before placing it under the Christmas tree.
"One of the things that impresses everyone the most is how God directs each box to the child that needs it," Shedell said.
So perhaps a quarter is not quite as limited as we think.