Diana Martinez's life changed forever when she received a shoebox gift as an 8-year-old. Now she's on the giving end and also teaching The Greatest Journey.
Operation Christmas Child
013477
Diana grew up in Patate, a mountainous region of central Ecuador, in the shadow of the Tungurahua volcano that towers over the province. Her family was poor, so when birthdays and Christmas rolled around each year she would receive well wishes but never a present. Her parents didn't attend church, but her big sister did.
One Sunday, out of curiosity, 8-year-old Diana tagged along with her sister to a worship service and enjoyed it. Two weeks after that first visit, Diana again accompanied her sister to church and was surprised to learn that each child that morning would receive a gift-filled shoebox.
"I was really happy to see the shoebox," Diana, now 28, said. "In my box were many toys, towels, and many wonderful things." But it wasn't the newfound treasures in her Operation Christmas Child shoebox that made the biggest impact on her. It was the realization that God loved her.
"That day I felt loved," Diana said, "because people who didn't even know me gave me a gift. It changed my life. It was a beautiful gift from God."
It was also the first time that Diana heard the Gospel and learned that Jesus died for her sins. She then began to regularly attend church because she wanted to know more about Jesus and the Bible, and become more like the people who loved her enough to give her the shoebox. Eight years later, the seed that was planted in her heart blossomed into a vibrant faith.
"When I was 16 years old I gave my life to God," Diana said. "I received Christ as my Savior. But the seed was planted in my heart when I was 8 years old and received the shoebox."
Sharing God's Love through a Simple Shoebox
Today, Diana and her husband, Esteban, are coordinators and counselors at Camp Chacauco, a Christian camp and conference center in the Patate Valley, near where Diana grew up. The camp's mission is to train leaders for the local church.
Recently, Camp Chacauco hosted an Operation Christmas Child shoebox distribution for 60 kids from two churches in Tungurahua Province. Diana and Esteban were on hand to help hand out the boxes to the eager boys and girls.
"I love the shoeboxes," Diana said, "because I hear kids say, 'I need shoes, I need a towel,' and then when they open the boxes they see the shoes, they see something they need. It's a miracle. God knows their needs."
"For some of these children, this will be the first time they have heard about Jesus or have ever heard what a gift is from God," Esteban added. "Even though they come from a religious background, most of the kids have never heard how much Jesus loves them. What Samaritan's Purse does with the shoeboxes is to give kids a clear representation of salvation as a free gift."
Diana and Esteban will now teach many of these youngsters The Greatest Journey, a 12-lesson discipleship course designed by Samaritan's Purse for shoebox recipients.
"After you hand out the shoeboxes, there is work still to be done," Esteban said. "And we're blessed to a part of that."
As Diana looked around at the smiling children at the distribution—some of whom were putting on cool sunglasses, hugging plush stuffed animals, and kicking shiny soccer balls around the compound—it reminded her of when she was a young girl and the impact receiving a shoebox had on her.
"My prayer is that the love of Jesus will remain in the hearts of every little kid who is here today," Diana said. "Everything they receive in the shoeboxes may get lost or damaged but what they won't lose, which is something I have never lost, is the love of God."
Esteban echoed those thoughts as he looked over at his wife: "It goes beyond imagination what God can do through a simple shoebox."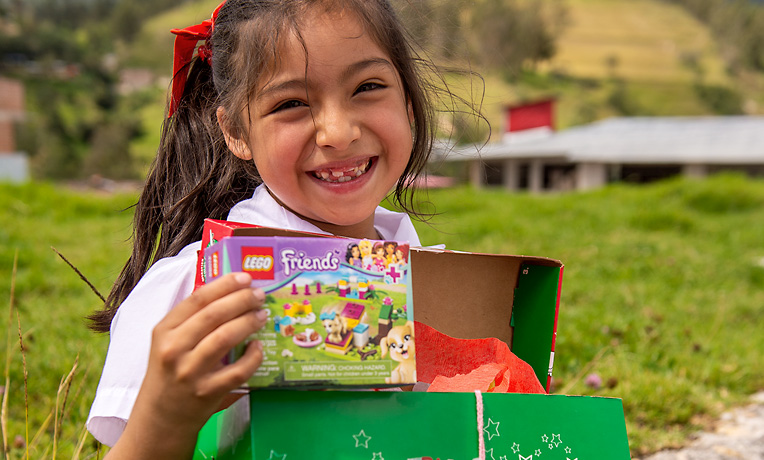 Operation Christmas Child
Through Operation Christmas Child, Samaritan's Purse is sharing the Good News of Jesus Christ with millions of boys and girls in more than 100 countries each year. Many of these children have never before received a present or heard the true meaning of Christmas—until they open a gift-filled shoebox from a person like you. Some people are not able to give the $10 per shoebox we request for shipping and related costs. By adopting a shoebox, you can partner with them to deliver the Gospel and help "bring salvation to the ends of the earth" (Acts 13:47, ESV).
---
Operation Christmas Child 013477
Adopt a Shoebox: $10 | Adopt a Carton of 15 Boxes: $150