A recent Operation Christmas Child distribution event brought smiles to boys and girls in need.
Children in a poor community outside of Hanoi, Vietnam, were excited and blessed to receive Operation Christmas Child shoebox gifts during a recent distribution event.
Build a Shoebox Online
"This community has difficult conditions. Most people are rice field farmers or labor workers," explained Minhtrung Le, Samaritan's Purse Operation Christmas Child coordinator in Vietnam.
Minhtrung described the distribution as an opportunity to teach the students to demonstrate love according to 1 John 3:18 and to love "not in word or tongue" but in "deed and truth."
The event included cultural dances and songs performed by the children and a message from Ken Barun, executive vice president for government and partner relations for the Billy Graham Evangelistic Association.
The Tommy Coomes Band also participated. The band was in Vietnam to lead worship for Samaritan's Purse President Franklin Graham's two-day evangelistic festival in Hanoi.
"We pray that as the children receive this gift, they'll know God loves them and that will translate into hope," said band member Anne Barbour.
Anne has participated in shoebox distributions across the world and "it never gets old," she said. "I feel so honored and privileged to be part of Operation Christmas Child. It's wonderful."
Government officials expressed their gratitude to Samaritan's Purse for bringing shoebox gifts to Vietnam.
"These boxes are meaningful and precious. Thank you for helping the poor students in this area," said Mr. Can Viet Anh, vice chairman of the Hanoi Union of Friendships Organizations.
A Day to Remember
Receiving an Operation Christmas Child shoebox is something that 8-year-old Hung will long remember. He hugged his shoebox tightly to his chest and smiled big.
"I don't get gifts very often. This is very special," he said.
Hung's favorite gift was a baseball mitt. He loves to play baseball but has never had a mitt—he just uses his hands.
Mydzung was delighted to receive colored pencils in her shoebox because she doesn't have any at home. The second-grader's favorite subject in school is art.
Mydzung's father is a motorbike repairman and her mother sells meat at a local market. She enjoys riding her bicycle, jumping rope, and playing with her older brother. Mydzung was also excited to receive a box of colorful jewelry beads.
When Minhtrung asked the children to raise high in the air their favorite gift item, 6-year-old My was one of many to raise her sidewalk chalk. "The color is so beautiful. I am very happy," she said.
My's mother sells goods at the market and her father is a truck driver who is sometimes away from home for long periods of time.
Please pray for children in Vietnam like My, Mydzung, and Hung. Pray that they will know God's love for them. Pray for the millions of children across the world who will receive Operation Christmas Child shoeboxes and have an opportunity to hear about God's love.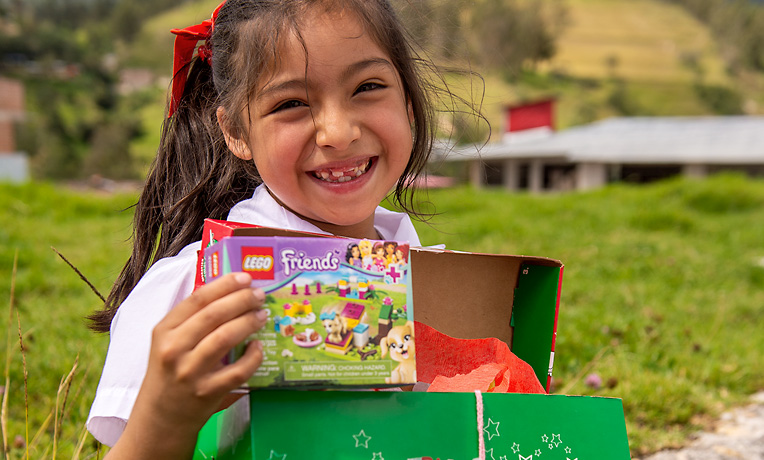 Operation Christmas Child
Through Operation Christmas Child, Samaritan's Purse is sharing the Good News of Jesus Christ with millions of boys and girls in more than 100 countries each year. Many of these children have never before received a present or heard the true meaning of Christmas—until they open a gift-filled shoebox from a person like you. Some people are not able to give the $10 per shoebox we request for shipping and related costs. By adopting a shoebox, you can partner with them to deliver the Gospel and help "bring salvation to the ends of the earth" (Acts 13:47, ESV).
---
Operation Christmas Child 013477
Adopt a Shoebox: $10 | Adopt a Carton of 15 Boxes: $150