Indiana year-round volunteer plays a crucial role in promoting local involvement with the worldwide project that delivers shoebox gifts to children in need.
Ben Smith knows the power of a good story and the difference it can make in people's lives.
Hearing stories about how Operation Christmas Child helped bring the Gospel to children around the world fueled his involvement in the Samaritan's Purse project from the very beginning. As a child, he packed shoebox gifts with his family and church. While attending college, Ben helped organize shoebox packing in his dorm.
Now as a media support volunteer for Operation Christmas Child in southwest Indiana, Ben loves to strike up conversations in his community about how God is working through the project to bring children—and their friends and families—to faith in Jesus Christ.
"You're a point person—making contacts and connecting people," Ben said about the media support role of promoting Operation Christmas Child through local print, radio, and television outlets.
This can range from announcing the nearest shoebox drop-off locations through community event calendars to coordinating local news coverage of a church's shoebox packing activities.
"You're a point person—making contacts and connecting people."
Being a media support team member starts with building relationships in your community. Knowing the churches, groups, and individuals that are active in Operation Christmas Child in your area is the first step in encouraging others to get involved.
"Keeping a pulse on what's going on in local churches helps you to hear about individual stories that then helps you to tell the overall story of Operation Christmas Child," Ben said.
That means working closely with fellow area volunteers who focus on church relations and community relations to hear and share stories about how God is working through Operation Christmas Child.
It also means getting acquainted with how your local media outlets receive announcements and story ideas. Giving outlets enough lead time to factor events into their calendars and coverage schedules is key, Ben said. This is particularly important during the busy holiday season in November and December, which coincides with National Collection Week and regional processing activities.
Ben was impressed by our strong media training for volunteers and is grateful for resources available from Samaritan's Purse, such as samaritanspurse.org/occ-videos, that help tie the local, national, and international aspects of Operation Christmas Child together for audiences.
"Loving to communicate with people about something you're passionate about gives you the initiative to keep following up and not shy away from opportunities to share what God is doing through Operation Christmas Child," Ben said.
Interested? Learn more about becoming a year-round volunteer.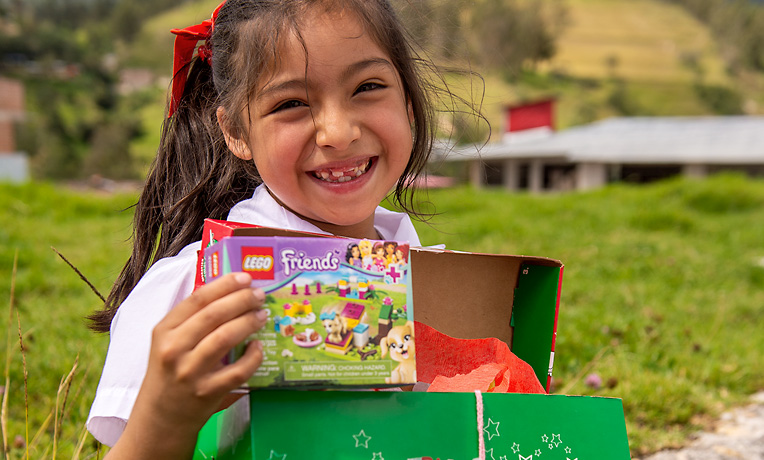 Operation Christmas Child
Through Operation Christmas Child, Samaritan's Purse is sharing the Good News of Jesus Christ with millions of boys and girls in more than 100 countries each year. Many of these children have never before received a present or heard the true meaning of Christmas—until they open a gift-filled shoebox from a person like you. Some people are not able to give the $10 per shoebox we request for shipping and related costs. By adopting a shoebox, you can partner with them to deliver the Gospel and help "bring salvation to the ends of the earth" (Acts 13:47, ESV).
---
Operation Christmas Child 013477
Adopt a Shoebox: $10 | Adopt a Carton of 15 Boxes: $150