Children and their families from Fort Atkinson celebrate 10 years of lovingly packing Operation Christmas Child shoebox gifts for boys and girls in need around the world.
Operation Christmas Child
013477
Faith Community Church of Fort Atkinson, Wisconsin, included an extra-special element in a recent worship service. Nineteen-year-old Evilyn Pinnow, founder of the church's shoebox club, returned from college in Ohio to lead the congregation in the packing of their 10,000th shoebox gift.
Significant contributors in the history of the club brought toys, school supplies, and hygiene items. Especially important were the personalized letter and the photo they placed inside the box. With each item, Evilyn recounted stories of God's faithfulness to the club. Then, 12-year-old Carter Flack, the group's current co-president, prayed over the box, thanking God for allowing them to pack thousands of shoebox gifts.
In 2009, 8-year-old Evilyn's vision to start the club began with a handful of kids packing 26 shoeboxes. Now a decade later, roughly 40 children and their families continue to fill more than 150 shoebox gifts each month. The club is led by a board of directors made up of kids who are mentored by adults in the church, which is located between Milwaukee and Madison.
God Answers Families' Prayers
Brent and Corrina Torrenga and their four kids have been involved in the club since its first meeting. In addition to the joy of being able to serve together as a family, Brent noted, "From the church's perspective, it's opened our eyes to missions for children. We're proclaiming the Gospel to every corner of the world through a shoebox."
At least one of their children has been on the club board consistently since 2012. Their 11-year-old Ben currently serves as co-president and finds his favorite part of the club is the prayer. He begins and ends each meeting asking God to supply the items they need. Over the past decade, each of the 10,000 boxes has been an answer, but a few special windfalls of provision stand out.
About five years ago, a fast-food restaurant gave them a full ton of toy cars. Brent helped unload pallet after pallet of them into the church attic and those cars continue to be included in the shoebox gifts the club packs.
One of the shoe stores nearby was also a channel of God's provision. From 2010 to 2016, the store purchased around 6,000 new, empty shoeboxes for the club to fill.
When the club ran out of combs, they began asking God to give them that item in particular. Not long afterward, the shoe store received a mysterious shipment of them. Unable to return them to the sender, they gave the club thousands of combs that lasted them through four years of shoebox packing!
'Mom, God's Calling Me'
After Evilyn became a believer at the age of 6, she said, "I really wanted to help kids who were poor."
She prayed about how, but that passion didn't find an outlet until two years later when she read an Operation Christmas Child brochure. Not long afterward, she had an idea in the shower. Later that day she announced: "Mom, God's calling me to start a shoebox club."
Josie Pinnow encouraged her, then, shy daughter to consider that this would require her to talk to people, but said that if God was asking her to do it, He would help her. Then step-by-step, Josie's administrative skills gave Evilyn the pointers she needed to launch the club and get their church involved in making it a success.
Evilyn served as the club's president until the age of 11 when she handed the leadership over to younger children. Even now, she continues to be involved by encouraging these newer board members in their roles. She describes herself as the "proud mother" of the group, but credits her own mother's contribution: "Without her help the shoebox club wouldn't exist," Evilyn said.
Three years after the shoebox club was born, Evilyn traveled the U.S. as Operation Christmas Child's shoebox ambassador to collect items for the project's 100 millionth gift collected. She had the privilege of delivering this special shoebox gift to a girl named Brenda in the Dominican Republic.
"The letter gives the kids a chance to know who packed the shoebox."
Evilyn especially enjoyed reading Brenda her letter that was tucked inside the shoebox gift. Some of the children at that outreach event stood in a line excitedly waiting for their letters to be translated, but others were sad they had not received one.
Seeing how much these letters meant to these boys and girls inspired Evilyn to make sure the shoebox club included a personalized note in each of their gifts. Even if the club member is too young to read or write, he or she will include a colored picture with their name on it.
For club member Julina, 11, the letter is her favorite item to put in the box. "The letter gives the kids a chance to know who packed the shoebox."
Kids Celebrate and Serve
After the church service where the club's 10,000th shoebox was packed, children and families listened to Izabella McMillon tell about growing up in communist Romania and how God answered her prayers through a shoebox gift.
Kelsey Callahan and her kids ages 2, 4, 6, and 8 participated that morning and are grateful to be part of the overall shoebox packing activities of the club. "They're sharing the Gospel with other kids," she said.
Her husband Christopher is in the Army National Guard, and she hopes this will help her kids learn to give back. "Their dad's serving, but this is a way we can serve other countries," she said.
Patty Congdon, a parent of one of the past club presidents, commented on the influence of an Operation Christmas Child shoebox gift: "This is a game-changer. It's not just an act of kindness—it can change a whole life."
That morning, the kids carried 100 uniquely packed and prayed over shoeboxes to the church's attic. Forming a human chain, one-by-one the kids passed the boxes up the stairs where they were stacked to the ceiling to await drop off during National Collection Week, the third week in November.
"This is a game-changer. It's not just an act of kindness—it can change a whole life."
Looking up that stairwell after all of the boxes had been stored, Lucy, 9, said, "Now we got to make it to a million!"
Evilyn never expected the shoebox club to pack more than 100 boxes a year, but she is humbled by all God has done. She hopes the group will not grow complacent, but "keep expanding and exceeding expectations" in the years ahead. After all, she said, "God uses kids sometimes more than adults."
—
Interested in starting something like this at your church? Download Evilyn's step-by-step guide for How to Start Your Own Operation Christmas Child Shoebox Club.
This article and video are part of our 2019 Operation Christmas Child Shoebox Roadshow. For more on this online cross-country journey, including additional short videos, please go to the Roadshow landing page.
Operation Christmas Child National Collection Week is November 18-25. Learn how to pack a shoebox gift!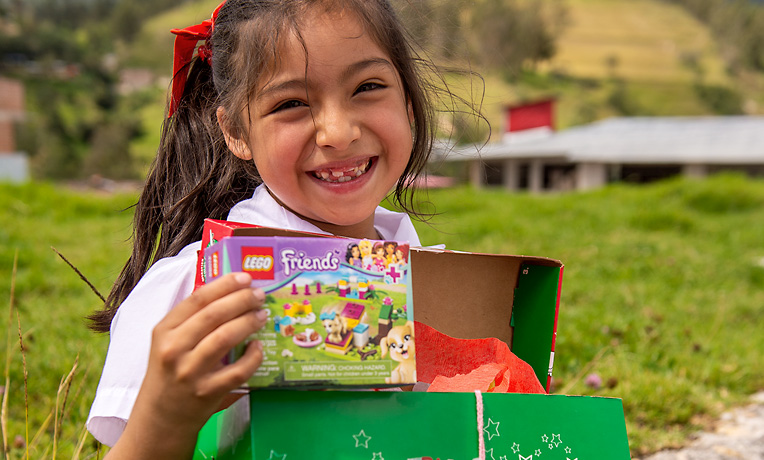 Operation Christmas Child
Through Operation Christmas Child, Samaritan's Purse is sharing the Good News of Jesus Christ with millions of boys and girls in more than 100 countries each year. Many of these children have never before received a present or heard the true meaning of Christmas—until they open a gift-filled shoebox from a person like you. Some people are not able to give the $10 per shoebox we request for shipping and related costs. By adopting a shoebox, you can partner with them to deliver the Gospel and help "bring salvation to the ends of the earth" (Acts 13:47, ESV).
---
Operation Christmas Child 013477
Adopt a Shoebox: $10 | Adopt a Carton of 15 Boxes: $150