Order Free Materials
Prepare to pack your Operation Christmas Child shoeboxes by ordering free resources. We'll provide everything you need to get started this shoebox season—labels, posters, flyers, packing party guides, inspirational videos, and more. Each item will help you pack and send your shoebox gifts, as well as spread the word about Operation Christmas Child to your church, group, or community.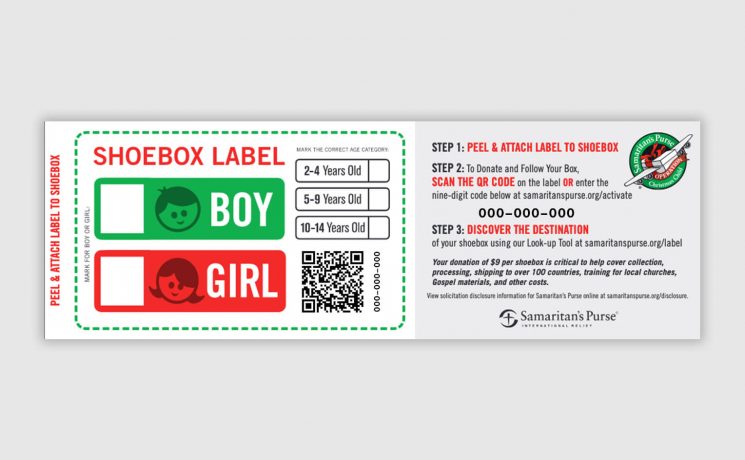 Adhesive Shoebox Label Sets
A set of 50 adhesive labels will make your packing parties even easier! After shoebox gifts are uniquely packed and prayed over, just apply a label and mark the correct gender and age of the intended recipient.

If you want to Follow Your Box and discover the destination of your shoebox, these QR-coded labels allow you to easily donate to activate and enable the tracking feature. Entire sets of 50 labels can be activated by scanning or entering the nine-digit code on one label.

Quantity selection below equals number of sets (1 set = 50 labels, 30 sets = 1,500 labels).
How to Pack a Shoebox Brochure
Includes step-by-step instructions, shoebox labels, and a postage-paid donation envelope. Order enough for your congregation, group, or family.
Materials also available in the following languages:
Spanish
,
Korean
, and
Traditional Chinese
.
Poster
Promote local Operation Christmas Child events by customizing and displaying these posters in classrooms, meeting rooms, businesses, drop-off locations, or around your neighborhood.
Materiales y publicaciones en español.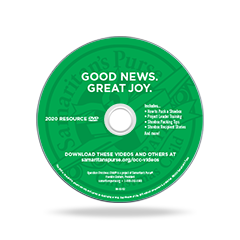 "Best of Operation Christmas Child" DVD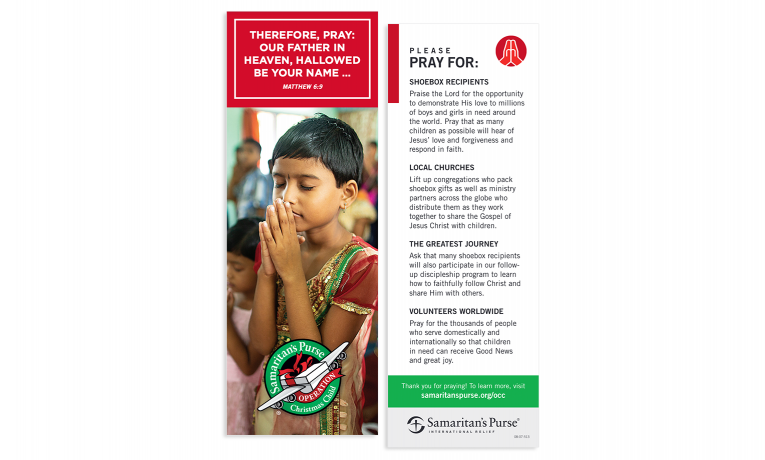 Prayer Guide Bookmarks
Remind your church or group to pray daily for everyone involved in the project, from the children who will receive shoebox gifts to those who pack them.
Materiales y publicaciones en español.
Outreach Overview
This resource is designed to share the impact of Operation Christmas Child and various aspects of how the project works using QR codes throughout the booklet to show videos of outreach events and The Greatest Journey graduation celebrations.
Journey of a Shoebox Fold-out
This 28" x 8" piece visually explains the journey of a shoebox from packing, collecting, and processing to delivery and The Greatest Journey. It shows at a quick glance what happens to a shoebox after it is packed.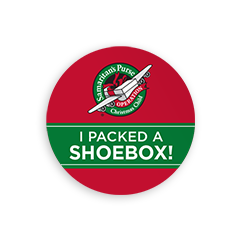 I Packed a Shoebox Sticker
Wear this sticker to spread the word about Operation Christmas Child and let everyone know you packed a shoebox for a boy or girl overseas. Stickers come in sheets of 12; order by sheet.
Operation Christmas Child Logo Stickers
Help spread the word about Operation Christmas Child with colorful stickers. Stickers come in sheets of 20; order by sheet.
"Let's Be Friends!" Sheet
Give little ones a simple way to include a note in their shoebox gift. This new colorful, double-sided sheet provides fill-in-the-blank options for children to introduce themselves to their shoebox recipients. Sheets available in packs of 50; order by pack.