Order Free Materials
Prepare to pack your Operation Christmas Child shoeboxes by ordering free resources. We'll provide everything you need to get started this shoebox season—labels, posters, flyers, packing party guides, inspirational videos, and more. Each item will help you pack and send your shoebox gifts, as well as spread the word about Operation Christmas Child to your church, group, or community.
Be sure to place your order by October 24 in order to receive your free materials in time for National Collection Week! Don't forget that you can also use shoeboxes of your own to pack full of gifts for children in need!
Please select a language option for your materials.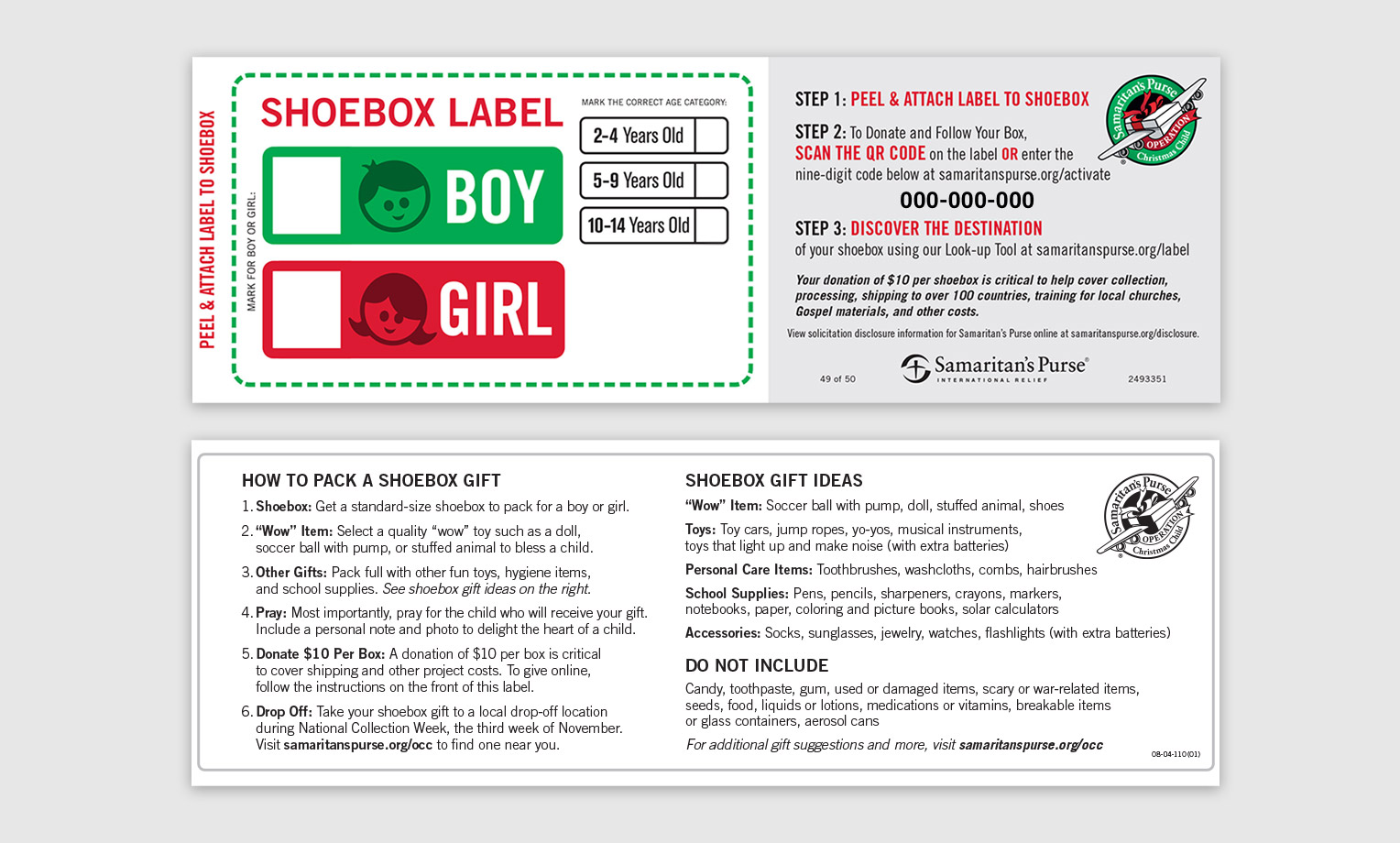 Adhesive Shoebox Label Sets
Includes How-to-Pack instructions on back
Order a set of 50 adhesive shoebox labels for your shoebox packing.

Scan or enter the code on your label to give your suggested $10 donation online and activate tracking for your label. This step is not necessary to use the label, but it will allow you to discover the destination of your shoebox.

Entire sets of 50 labels can be activated simply by entering the nine-digit code on one label and selecting the option to activate the whole pack. If you need a single label, consider ordering our brochure that includes a label.

For more than 30 sets (1,500 labels), contact occinfo@samaritan.org.

1 set = 50 labels
How to Pack a Shoebox Brochure
Includes step-by-step instructions, a shoebox label, and a postage-paid donation envelope.
Please note that each brochure only contains one label.
Materials also available in the following languages:
Spanish
,
Korean
, and
Traditional Chinese
.
1=1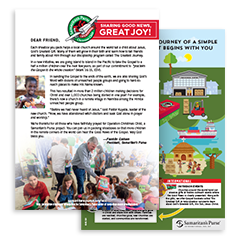 Promotional or Bulletin Insert
This great tool contains a letter from Franklin Graham with a spiritual impact story as well as shoebox gift suggestions. 5.5" x 7.5" Materiales y publicaciones en español.

Don't have time for mail delivery? Print your own 8.5" x 11" editable version with gift suggestions and instructions for how to pack a shoebox.

Selecting "1" as quantity below means you will receive one insert. These are not packs.
"Best of Operation Christmas Child" DVD
Journey of a Shoebox Fold-out
This 28" x 8" piece visually explains the journey of a shoebox from packing, collecting, and processing to delivery and The Greatest Journey. It shows at a quick glance what happens to a shoebox after it is packed.
"Let's Be Friends!" Sheet
Give little ones a simple way to include a note in their shoebox gift. This two-page coloring sheet also provides fill-in-the blank options for children to introduce themselves to their shoebox recipients.

Color-printed versions of this resource can also be ordered from our store. Packs of 50 sell for $2. Download a printer friendly version of the page.
Build a Shoebox Online Promotional Piece
Spread the word about our contactless packing option that sends shoebox gifts to nations that are hard to reach with the Gospel of Jesus Christ. One side of this promotional piece describes the easy steps of packing shoeboxes online, while the other covers how goal pages can be created for a church or group to track their progress toward a shoebox goal.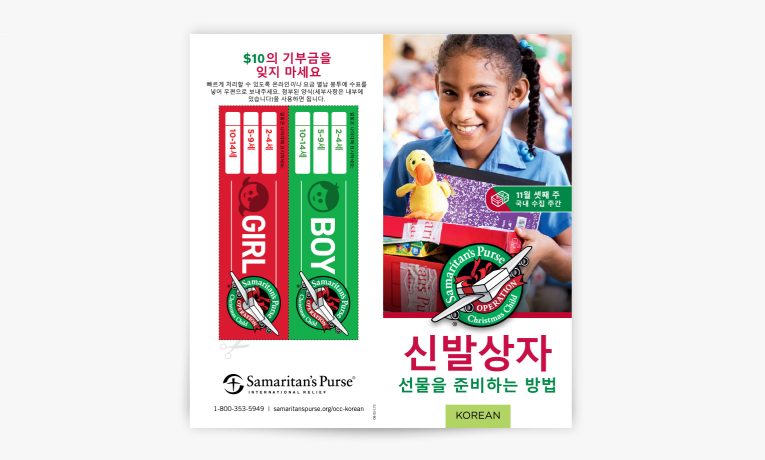 선물 상자를 포장하는 방법 브로셔
단계별 지침, 선물 상자 라벨, 기부금 봉투가 포함되어 있습니다. 성도, 단체 또는 가족에게 나누어 줄 만큼 충분히 주문하십시오.
Also available in the following languages: English, Spanish, and Traditional Chinese.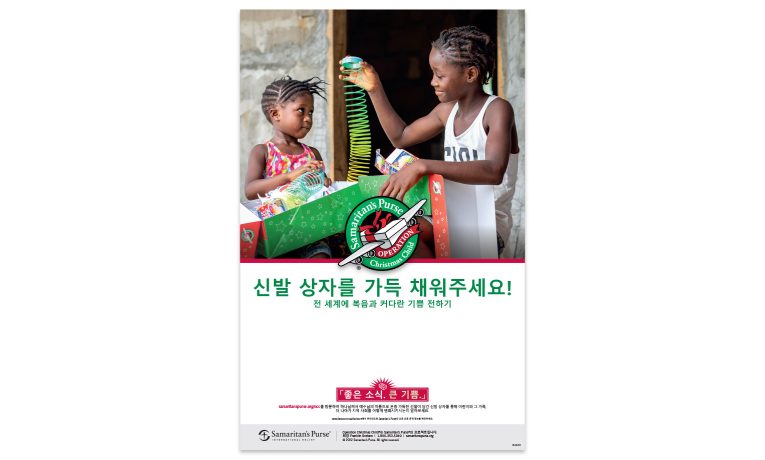 포스터
교실, 회의실, 직장, 수집 장소, 동네 등에 지역 Operation Christmas Child 이벤트 포스터를 꾸미고 게시하여 홍보해주세요.
Also available in the following languages: English, Spanish, and Traditional Chinese.
브로슈어: Operation Christmas Child란 무엇인가요?
이 브로슈어는 교회와 단체를 대상으로 Operation Christmas Child에 대한 대략적인 설명을 제공하며 선물 상자가 포장, 수집, 가공되는 과정을 시각적으로 보여줍니다. 선물 상자가 배송되기까지의 The Greatest Journey를 만나보세요.
Also available in the following languages: Spanish, and Traditional Chinese.