Operation Christmas Child shares the love and hope of Jesus Christ with children in the hurricane-battered Bahamas.
Hundreds of boys and girls received gifts and learned about the hope of the Gospel during a series of Operation Christmas Child shoebox distributions on the island of Grand Bahama, Dec. 27-28. The celebration was a welcome time of joy for the children as the island continues to recover from Hurricane Dorian.
Local church partners told the children about Jesus Christ, God's Greatest Gift, and how they can follow Him as Savior and Lord. Three generations from the Graham family helped volunteers hand out shoebox gifts: Jane Austin Graham, wife of Samaritan's Purse President Franklin Graham; two of their children—Edward and Roy; and several of their grandchildren, among others.
Our teams in the Bahamas have been sharing the Good News of the Gospel with children on the Caribbean islands through Operation Christmas Child, a project of Samaritan's Purse, since 2011. Over the years, more than 14,000 children there have made decisions for Christ through The Greatest Journey, our follow-up discipleship program for shoebox recipients led by local churches.
Since Hurricane Dorian struck the Bahamas this past September, Samaritan's Purse has been providing emergency assistance on Grand Bahama and Abaco islands, transporting and distributing over 360 tons of relief supplies, as well as providing over 1 million liters of clean water and clearing away more than 13,000 cubic yards of storm debris.
Please pray for the children who recently received shoeboxes, for all the people of the Bahamas as they recover, and for our continuing relief efforts there.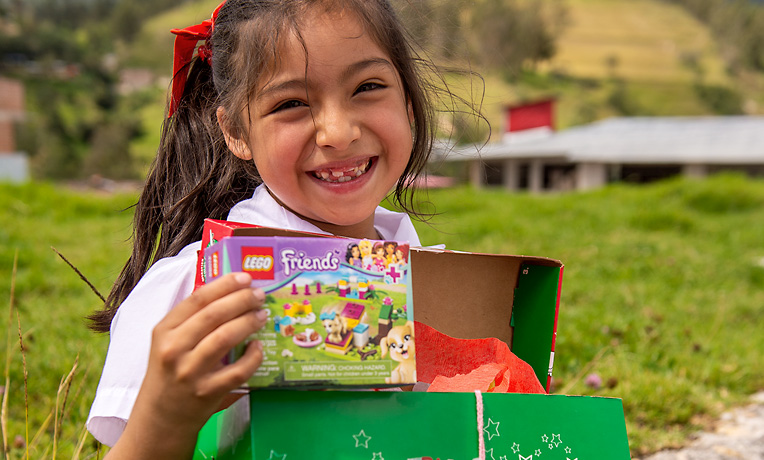 Operation Christmas Child
Through Operation Christmas Child, Samaritan's Purse is sharing the Good News of Jesus Christ with millions of boys and girls in more than 100 countries each year. Many of these children have never before received a present or heard the true meaning of Christmas—until they open a gift-filled shoebox from a person like you. Some people are not able to give the $9 per shoebox we request for shipping and related costs. By adopting a shoebox, you can partner with them to deliver the Gospel and help "bring salvation to the ends of the earth" (Acts 13:47, ESV).
---
Operation Christmas Child 013477
Adopt a Shoebox: $9 | Adopt a Carton of 15 Boxes: $135